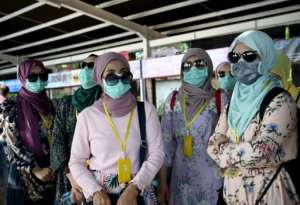 I believe that when one promulgates a rule, law or principle, there should be the provision of conducive and congenial ambiance necessary for its compliance to prevailing.
The issue of wearing face and nose masks continues to receive huge debates and arguments between individuals, public health agencies, and governments. It is still not clear whether face masks should be worn by only COVID-19 patients and their caretakers, or any member of the public can wear one.
The Minister responsible for Health, city authorities in Greater Accra, Greater Kumasi and Cape Coast have all issued a directive to enforce a compulsory wearing of face masks to prevent the spread of the Coronavirus. But the public is demanding more education on the mandatory wearing of face mask.. So why the rush?
Are we talking about the homemade cloth face mask, the surgical or nonsurgical mask, the filtering face-piece respirators such as N95 or FFP masks, or any ordinary face mask since people are being forced to wear one in the public spaces?
Following the lifting of the ban on restricted movement and the non-adherence to social and physical distancing protocols, especially in market centers, it arguably may be right to ask people to wear masks to protect themselves as many people can be infected without symptoms only mild symptoms of the disease.
However, I pray the authorities to be very wary with this enforcement.
What, and how many face masks have the government procured and delivered to the citizenry to warrant any enforcement of mandatory wearing?
Why would you force people to wear face masks when they do not even know to properly wear or remove the mask? Some of these things including the famous "No Face Mask, No Entry" campaign should cease!
I spoke to some university students who believe it is not a bad measure, yet they agree effective public education should take place to sensitize people on these issues.
"People are making a whole lots of nose masks, and have we really thought of the fabric they are using in making it? We should rather ask them what type of nose masks are prescribed and should be bought. People just make them with the aim of making money and don't think how it should be made and in its right way," one of them bemoaned.
"So I think in doing this there should be education in the time being and after the distribution and education people still don't use it, then they can hold them responsible," another student suggested.
In my interactions with some market women, I realized that the education on the wearing of face masks has not gone down well with them. They tell me because 'the weather is hot,' they can't afford to wear the face mask always.
Others said that since they are in their shops, they are safe, hence there is no need wearing a mask.
"The weather is hot so I have removed it, yes, I can't wear it always. Usually I wear it when I'm coming to the market but when I get here, I remove it while observing social distancing with my customers. I don't think education is necessary, what is important is wearing it," one of them said.
"I don't feel comfortable wearing it. For now, the government has tasked some companies to manufacture some but that would not be enough, yet the ones we buy outside absorb so much heat making it difficult to wear."
Meanwhile another trader believes "the government is doing its best to educate us to wear it so it is better for us to wear it, at least for our own good."
I speak with grave concern the absence of the National Commission for Civic Education (NCCE) in the fight against this deadly Coronavirus.
The NCCE has been wailing in desperation about being underfunded for quite a long time. This was the time the semi-autonomous state apparatus was needed the most in the quest to disseminate information to the masses but the voice of the NCCE is lost and has not been heard so much about the virus.
What then would be the work of the NCCE if basic information about the virus can not be recorded in local languages to educate and inform people across the country?
In such a desperate time as we find ourselves, indeed, desperate measures are needed on board. And I believe strategic, proper and unambiguous communication is inclusive and even paramount here.
It is high time the plethora of misinformation going viral on social media stopped!
Yes, NCCE may be financially insufficient and not well-resourced but it can explore other means to propagate Information in most local languages. Nelson Mandela once said that speaking to people in a language they speak and understand is hugely 'super-powerful.' Whatever you tell such people gets into their heads!!
CGTN Anchor, Zou Yue believes that the fight against COVID-19 demands "extreme, draconian and aggressive" safety measure. Ghana can never fight this global pandemic when put politics ahead of our public health. We must move ahead with all humility, bearing in mind that "there is no decision without trade-offs, and most of all: there is nothing without skin in the game."
Let's learn to play this game well!
Christian Yalley | universnewsroom.con