Tourists die in Sri Lanka park blast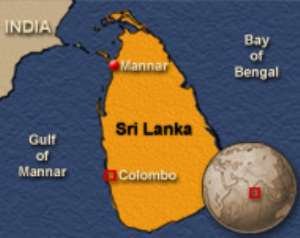 A series of powerful explosions at Sri Lanka's largest national park have destroyed a vehicle full of tourists, killing at least seven people.
A police officer, speaking on condition of anonymity, said the police and army had, on Sunday, found human remains and the wrecked Jeep at the site of the blasts in the dense jungle of the park, 175km (105 miles) north of the capital, Colombo.
The officer said there were three mine blasts, as security forces found as many small craters in the ground.
Dayananda Kariyawasam, head of wildlife conservation, said a group of tourists told forest guards at Wilpattu National Park that they saw a Jeep on Saturday which appeared to have been destroyed by an explosion.
They said there were eight bodies with the wreck, Kariyawasam said.
On Sunday, the police officer said security forces found six bodies.
The park is known for its unfettered jungle containing elephants, leopards and sloth bears. Tourists may drive around parts of Wilpattu - which spans nearly 1,910 sq km - but are expected to keep to marked tracks.
But parts of the sprawling park are sometimes patrolled by Tamil Tiger rebels, who have been fighting since 1983 for a separate homeland for the country's minority ethnic Tamils, claiming discrimination by the majority Sinhalese.
The war has claimed more than 65,000 people before a government-rebel cease-fire halted major hostilities in 2002.
The cease-fire has nearly unravelled amid recent months of violence, which both sides blame on each other.