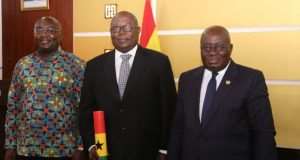 Ghana's Apex court is set to determine the legality or otherwise of the appointment of Martin ABK Amidu as the nation's first special prosecutor. The court will deliver its judgment on the 29, April 2020.
Martin Amidu's appointment as a special prosecutor was challenged by a former deputy Attorney General.
Mr. Dominic Ayini opined that the special prosecutor was over-aged at the time of his appointment and thus is not qualified to occupy his current office.
The Bolgatanga East legislature wants the apex court to declare Mr. Amidu's appointment null and void.
He told the court that Mr. Amidu was 66 years of age at the time he was appointed by the president to head the office of special prosecution.
It will be a landmark ruling following the mixed reactions that greeted Amidu's appointment.
It will be recalled that the Supreme Court threw out Martin Amidu's defense, when he entered as a party in the said case seeking to defend himself. The court however asked the Attorney General to inter defense on Amidu's behalf. The court in February said Mr. Amidu was not a proper party to the case as the position in question is one which falls under article 88 of the Constitution which requires the Attorney General to represent a public official.
But Amidu was not happy with the court's directive and thus stated: "I really don't care if I am told that the decision of the court is against me because I was a party. I am a better lawyer than anybody who can defend me in that case and yet the AG raised objection to my being there. When I filed all my pleadings and we reached the Memorandum of Understanding and I thought we were going to argue, I was striken to fall on somebody's sword. That is what is happening now because it is only the AG who is in the case so I am going to fall on her sword if she doesn't handle the case well. I don't give a damn, I'll just do my job," Martin Amidu said.
Will Amidu stay on a special prosecutor after April 29? And what will be the case, should the law court orders him to step aside? ABUGRI FROM BUGRI IS WANTS TO KNOW.