Akufo-Addo Making Fake Promises Amidst Coronavrius Crisis--George Kwaku Yeboah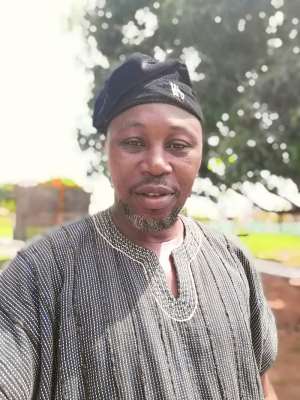 Mr. George Kwaku Yeboah, a member of the Volta NDC communications team has lambasted President Nana Addo for what he termed as fake campaign promises in the midst of COVID-19 pandemic.
His full statement below
People who are good at solving problems are some of the most valuable and respected people in every area. For this reason, success has been defined as the ability to solve problems, as leadership is the ability to solve problems even in the face of adversity.
It is obvious in the last address given by President Nana Addo that, he is not ready to solve problems, which means his leadership is palpably mediocre in the face of the current COVID-19 crisis.
He has just kick-started his 2020 campaign with the usual lofty promises, as he did in 2016. You'd be the only stranger in Jerusalem, to think otherwise.
It must be put on record that this government has drawn the 2020 budget and has barely 8 months to end the year.
The budget year, we know, stretches to March 2021. I've just gone through the entire 2020 budget and nowhere did I see 88 ×100 bed district hospitals with staff bungalows and 6 newly to be built regional hospitals in the budget for the year 2020. It could be a very expensive afterthought, only occasioned by COVID-19.
How the programmes for the year, could be altered to accommodate all that, remain the question.
It is problematic and unthinkable, if it has to take COVID-19 for our government to reconsider their position on health infrastructure development at this scale, and to be considering such an ambitious expansion within a year. This should attract a few questions from even the most lunatic supporter and praise team member of the NPP.
Were they not just praising themselves for being the first poor country to have successfully outpaced every other country on the planet earth in drawing a whopping $1 billion from the IMF and another $100 million from the World Bank, meant to salvage states whose economies were in absolute tatters from the COVID-19 pandemic?
The IMF was very specific that, the fund was aimed at supporting countries with economies that could not survive the onslaught of COVID-19. Without these funding interventions from the Bretton Woods, there was no chance we could have held out thus far against COVID-19.
I have looked up the NPP manifesto, which underpin their policy direction. The section on health, should make every citizen strongly question the candour with which the President made his promise. The 2016 NPP manifesto, among other lofty promises, spoke about upgrading all district hospitals, where they exist, and build one, where there is none. We're in the fourth month of the fourth year of the four-year term, but not a single one that promised had been delivered or even initiated.
Since the 88 new District hospitals and 6 new Regional hospitals promised are going to have trained doctors and other health professionals to run them, I'd like us to refer to the portion of the NPP 2016 manifesto, which spoke about expanding and investing in existing medical schools to train more doctors, and even went further to promise free specialist postgraduate training for all doctors in Ghana. There was also the promise of the reintroduction of tax relief for all health workers to buy their own vehicles. What has happened to these lofty promises during the last 40 months of the NPP administration? If none of these hifalutin promises were fulfilled in the last forty months, or ever spoken about again, what is the guarantee that they would ever be delivered in the remaining eight months?
Hospitals don't just spring up in vacuum. The promise of building 88 new district hospitals and 6 new regional hospitals in one year, may not be taken seriously by many, if that promise is not situated within the government's medium to long term demonstrable strategy. Infrastructural expansion of healthcare, especially the scale the President spoke about and within the time frame, should have seen prior investments in the training of the requisite personnel among others.
As it is, this promise sounds a very disjointed and ill-considered campaign strategy, thrown out into the public space to gain traction in the media, in order to divert attention from present challenges in managing the COVID-19 pandemic.
This is the same government that has failed to complete several hospital projects, built with taxpayers' money, left by his predecessor and has refused to even operationalize some completed hospitals for more than three years. The erstwhile John Dramani Mahama government left uncompleted hospitals valued over $1.2 billion of taxpayers' money. If the President is not speaking about completing these projects, and making good our money, where is the candour in his promise?
President Nana Addo, should give us a break and just start putting his handing over notes together.