Little Dramani Should Steer Clear of SSNIT!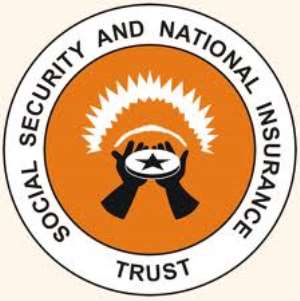 He is a veritable and an inexcusable nuisance; not that there were really any excusable nuisances anywhere anyhow. The fact of the matter is that this payola-soliciting-whore ought not to be traipsing the country hoodwinking the psychologically vulnerable and leading them into the dangerous temptation of hoping that he has any redeeming aspect to himself where visionary and socially responsible leadership are concerned. His is the sophomoric politics of abuse and provocation, desperately hoping that he could bring some of his intellectual and ideological superiors to his guttersnipe's level. Fat chance! You see, all that Little Dramani appears to know how to do is give clueless and haughty instructions about how to dole out other people's money whose acquisition and the regulations dealing with the disbursement thereof or about which he knows practically and absolutely nothing. By so doing, the former Accidental President demonstrates embarrassingly that the gray matter under his skull is no thicker or heavier than that of a two-year-old toddler.
I came across a namby-pamby sorry ass of an apologetic article claiming that the very responsible administrators of the Social Security and National Insurance Trust (Fund) ought to apologize for aptly and condignly putting Little Dramani in his place. I nearly threw up my guts. It is not as if most of us have so messed up our thinking and memory capacity as to have so soon forgotten that the last time that Little Dramani put his northern-descended clansmen in charge of SSNIT, you know, the Iddrisus and the Alabis, we have forgotten how they pocketed every cedi and pesewa they found in the cash register, including the last watchman's salary, as if Abongo Frafra was not an "Opepeni" enough. The old man came crying to me with both arms on top of his head, screaming for the comfort of his long-deceased mother. You see, even among these "Ntafo," there is a range of classes, the Mahamas, the Ayarigas, the Jinapors and then the Abongo Frafras and the Kawukudi Kanjagas. And yet, when Little Dramani is on his Atta-Mills-Throat-Cutting-Dervish, he pretends as if all northern-descended Ghanaians were twins born of one Sanpaga.
Unfortunately for Mr. Airbus SE, his most recent gaffe vis-à-vis Social Security Benefit Payouts reminded yours truly of the great multimillion-dollar mess that his appointees made at the Social Security and National Insurance Trust, the civil and public service workers' retirement fund, in the leadup to the 2016 General Election (See "SSNIT Lecture[s] Mahama on Pension Benefits Payments" News Desk – Modernghana.com 4/25/20). In a shameless copycat fashion that clearly aped the astute and visionary and socially and politically responsible decision by President Addo Dankwa Akufo-Addo to provide all Ghanaians with three months' supply of bill-free electricity and water, in the wake of the Coronavirus Pandemic that has devastated nearly every country in the world, the man who is widely known not to spare any chance to take bribes in exchange for lucrative and Ghanaian taxpayer-scamming government contracts, for which he has already been generously salaried, decided to lecture the SSNIT administrators on how they needed to dole out some unspecified amounts of compensation to contributors to the Fund who had not yet reached the eligible retirement age to qualify for such payments during the course of the next three months. That is how cynical and opportunistically reckless Little Dramani has been dealing with the destiny and economic well-being of the Ghanaian civil servant and the blue-collar worker.
Obviously, this clueless "financial advice" was given so as to afford electioneering campaign bragging rights to the man under whose Presidency SSNIT got almost completely and criminally gutted and literally scammed out of all its investment resources, in the name of technological upgrade, as yours truly vividly recalls. You see, Little Dramani never passed up any chance to make himself look good and loaded, even if it meant stealing the Ghanaian taxpayer's money to do so. On the latter count, we all need to be grateful and thankful that it is Nana Addo Dankwa Akufo-Addo who is President of the Sovereign Democratic Republic of Ghana and not the "Ganger Boy," to whom absolutely no bribe money is either too big or too small to pass up.
Fortunately, on this occasion, we are informed that this reckless and ungrateful political opportunist got the sort of tuition-free lecture that he deserved on the sort of worker-protective International Labor Organization (ILO) formulated protocols that studiously regulate the way and manner in which pension funds are managed and disbursed on labor markets throughout the civilized world. I really don't know why Tweedledee or Tweedledum seems to think and believe that he has an inalienable constitutional right to ride Ghanaians like a drove of donkeys. Of course, we all know that Little Dramani giddily drove Mr. Jibril Kanazoe's American-made Ford Expedition SUV, even while also vehemently protesting that his favorite choice of a four-wheeler was the Japanese-made Toyota 4-Runner.
*Visit my blog at: kwameokoampaahoofe.wordpress.com Ghanaffairs
By Kwame Okoampa-Ahoofe, Jr., PhD
English Department, SUNY-Nassau
Garden City, New York
April 25, 2020
E-mail: [email protected]