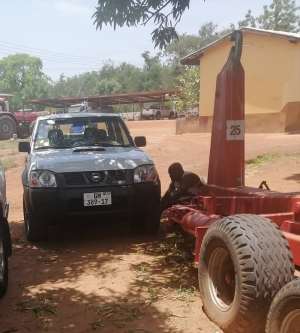 ModernGhana News sources revealed that some disgruntled members of the ruling New Patriotic Party have hijacked a vehicle belonging to the NPP Chairman in the Savannah Region on Saturday over alleged wrongful allocation of the vehicle.
The rambo NPP group are reported to have deflated the tyres of the vehicle and snatched the keys from the driver while the executives of the party were at a regional meeting at the Savannah Regional Coordinating Council in Damongo.
ModernGhana News' sources within the party said there was no security presence at the SRCC when the group led by one Sofo from East Gonja District stormed the premises but later bolted. No one was harmed by the group, the source noted.
According to the Source, the vehicle with the registration number GM 389- 17 was donated to the regional chairman by the Managing Director of Ghana Water Company Limited (GWCL) Dr Clifford to aid in the activities of the party.
ModernGhana News sources said the Regional Chairman Alhaji Sulemana Iddrisu best known as Professor Kalamonia already has a pick-up for carrying out his duties and so intended to give the newly donated Nissan pick up to the Regional Youth organisation.
Our source indicated that the Youth Organiser Raphael Mahama Akati resides in Bole and needed the vehicle to carry out his duties but the decision did not augur well with some of the party members who are not happy with the Chairman for sitting on the new vehicle together with the old which led to their action on Saturday.
The party has not reported the incidence to the police for investigations but are yet to decide the fate of the Rambo group at the regional level.
Our source indicated that the keys to the vehicle have been returned to the Regional Chairman by the same group.