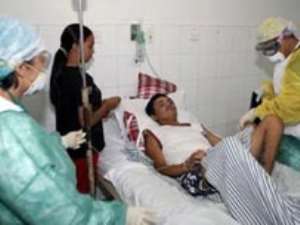 A 10-year-old Indonesian girl who died this week in Bandung city was killed by the H5N1 bird flu virus and the source of infection was likely to be sick poultry in her village, a health official said today.
"The girl is confirmed by the WHO as well as the local lab," said I Nyoman Kandun, director-general of communicable disease control. He was referring to the World Health Organisation (WHO)-recognised laboratory in Hong Kong, one of a few around the world whose findings are considered definitive by the international medical community.
The girl's 18-year-old brother, who also died on Tuesday, tested positive locally for H5N1 this week, but was not considered a bird flu case by the Hong Kong laboratory.
"It's a borderline case ... It may be because of the procedure of specimen collection, handling, maybe the Hong Kong lab had problems. We had the same experience before in another case," Mr Kandun said.
The confirmation of the girl's infection brings the H5N1 death toll in Indonesia to 34, and the worldwide total to 125.
Though the brother is not classified as a H5N1 case, Mr Kandun said he exhibited the same clinical symptoms as his sister.
Dead chickens were found in their village in western Java island a few days before they fell ill and sick poultry may well have been the source of their infection, he said.
Mr Kandun considered the case of the siblings as Indonesia's seventh human bird flu cluster since the disease found its way into chickens in the sprawling archipelago in late 2003.
Indonesia's bird flu problem captured the world's attention this month after the virus killed as many as eight members of a family in a remote village on the island of Sumatra in the country's far west.
Health experts and epidemiologists have narrowed the likely source of their infection to poultry but they say limited human-to-human transmission may also have occurred.
But the WHO says genetic analyses of virus samples from the Sumatran victims have not shown changes or traits that are known to date to allow the virus to spread efficiently among people – a necessary precursor to the start of a pandemic.
Some who died later had taken care of those who fell sick earlier and may been infected during close and prolonged contact.
Mr Kandun said victims in every one of the seven clusters were blood relatives – which gives credence to a theory that people who are infected by the H5N1 are genetically predisposed to it due to a unique make-up of their respiratory tracts.
"Maybe they have genetic susceptibility," he said.
Another observation that backs up the theory is that spouses were never infected even though they had close contact with the Sumatran victims.
"If you look at two wives in the family, they were very close to the sick members and they are not sick," Mr Kandun said.
"If efficient human-to-human transmission was happening, nurses and other contact persons must be sick."
Local health officials however have failed to detect live H5N1 virus in samples collected from chickens in Sumatra – which deprives Indonesia of vital evidence to pin the source of infection to sick poultry.
Mr Kandun said the Government decided on today to collect more samples in the area