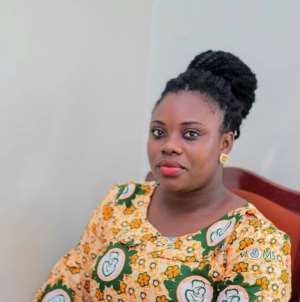 Young philanthropist Jane Williams, a third-year law student of the University of Cape Coast yesterday touched the hearts of many residents and hawkers of Kotokuraba, a suburb of Cape Coast in the Central Region when she gave out dozens of facemasks for free. Ms. Williams has so far given away about 130 pieces of reusable face masks to help mitigate the spread of the deadly Coronavirus which has since its outbreak in Ghana reportedly infected more than a thousand people already.
Ms. Williams admits that when the pandemic broke in Ghana, she thought of making face masks for herself and the people around her. She however observed that there were many who could not afford masks, some of who reached out to her for help. She therefore decided to make and sell some of the masks to those who could afford and use the proceeds to make more for those who could not afford.
The Central Region confirmed its first case of the Covid-19 disease on Wednesday 8th April 2020 after Ghana had confirmed its first 2 cases on 12th March, 2020. As of yesterday, 24th April 2020, the region had 11 confirmed cases, according to the Regional Health Directorate.
Recounting how she came to decide to go on this mission, Ms. Williams disclosed that her initial target were the hawkers and squatters around Sewdo, a popular spare part-dealing community in Cape Coast where she grew up. She however expanded her reach to the Kotokuraba Market and its environs on the consideration that such areas are high-risk areas. She recalled that this move was her way of reaching out and giving back to the community where she grew up.
According to Ms. Williams, she undertook this activity with the support and in the company of her mother, daughter and her younger sister. She explained that her mother supplied the cloth which she sewed into the masks. She added that they identified hawkers and persons they perceived were incapable of buying face masks, engaged them on the subject matter and gave out the machine-sewn masks after educating them on their necessity and use.
Ms. Williams also pointed that they identified and gave out some of the masks to some old women who were once traders at the market where they went but who could no longer ply their trade due to old age.
The young philanthropist admits that she wishes to do more and could make more masks if she had the support of similar-minded individuals who would want to assist in the sewing free of charge to support the community. She remarked: "As for cloth, I have enough and I can even get people to donate. But if I can get somebody who is also into sewing, who has a good heart and can sacrifice and say 'I am not taking money for this', I will provide the cloth, we will both sew and then share it among the people."