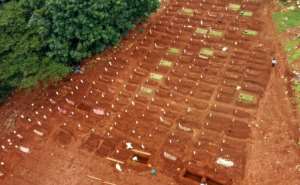 I want to make it loud and clear to all, that those who are celebrating the lifting of the partial lockdown, are doing so, simply because, they do not know the nature of the coronavirus and how far it can go in killing us if as a nation, we do not take the best measures in containing the said virus.
I strongly believe that the money that we have for fighting the said virus, can feed all households in Ghana for at least 3 months. After all, the minister of agric has assured us that we have plenty of food to feed all of us. Government officials, those actively involved in politics in Ghana today and the rich, who are not actively involved in politics, will not need food aid, Therefore our President should have acted like a hen moving around with its chickens. If the hen sees a hawk flying above them, it will quickly give an alarm to its chickens to take cover. The hen will call its chickens back from their hideouts if it sees that the said hawk is no more flying above them.
All our district hospitals do not have equipment for testing for the said virus, as well as reliable isolation centres. As a nation, we have not been able to contain the spread of the said virus and yet, our President has lifted the partial lockdown. May God comes quickly to save us, if not Ghana will be extremely miserable.
Rev. Fr. James Ignatius Yaw Amponsah
Akyem Ntronang