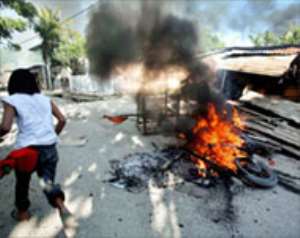 The prime minister of East Timor has claimed that an attempted coup is under way as violence continues on the island.
At a news conference on Saturday in Dili, the capital, Mari Alkatiri said: "What is in motion is an attempt to stage a coup d'etat."
Minutes earlier, Australians troops disarmed up to 40 men armed with knives and machetes who had threatened to storm the hotel where the news conference was about to he held.
Rival gangs burnt down houses and attacked each other on the streets, defying international peacekeepers patrolling in armoured vehicles and combat helicopters.
It wasn't immediately clear if foreign troops were involved in any gun battles.
On Saturday morning, young men armed with slingshots and rocks attacked what they believed were the homes of soldiers who helped Indonesian army militias responsible for the violence that had accompanied Indonesia's withdrawal from East Timor in 1999.
Thousands of residents fled to embassies, churches and nearby villages. The number of casualties was not known.
The violence was triggered by the firing in March of 600 soldiers and is the most serious trouble in East Timor since it broke from Indonesian rule in 1999.
Guerrilla war
After rioting last month, the sacked troops set up positions in the hills around Dili and threatened guerrilla war if they were not reinstated.
They started ambushing soldiers in the capital on Tuesday.
The dispute, fuelled by tensions in a nation divided along east-west lines, has also drawn in ordinary citizens, some frustrated by poverty and unemployment.
East Timor's government asked for international help, saying it could not control the situation, and hundreds of Australian troops have already arrived. New Zealand, Malaysia and Portugal have also agreed to help, with some advance forces already on the ground.