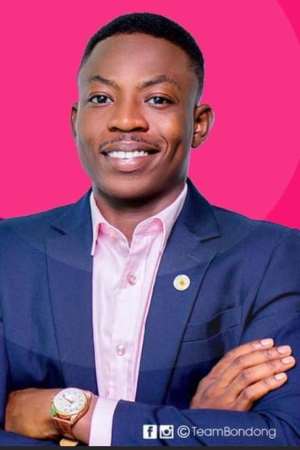 Dear President Moses Bondong,
I deem it a great pleasure and a rare privilege to pen to you, on this day, a letter celebrating not just your age but of your intelligence, resoluteness, courage, independence in thought, true leadership, affability, friendliness, love and care.
It's just a little over a month since we first met, interacted, became friends, and moved onto brotherhood. If there is anything to ever regret in life, it would definitely not be our meeting and knowing you. I must confess; you're a brother worth having.
Sir, as an ardent follower of our student's political discourse and a student activist so to say, my eyes, heart, and mind have not failed me with regards to holding a keen interest in what the leaders of the various student unions, ie. NUGS, USAG, TTAG, GNUTS, PUSAG, GRASAG, GUPS including the very own NAHSAG which you lead as National President do with the power and authority they wield.
Interestingly, unlike some other unions, NAHSAG, under your presidency is not failing. You have been on course, still on course and optimistically shall be on course. Indeed, you're one out of the few presidents of our unions with a clear vision, mission and understanding of what leadership truly is. Some others, without an iota of regret, are but square pegs forced into round holes.
Just like you, I equally hold a firm believe of positive growth, progress, transformation and change born out of a revolutionary mindset of all. I do agree with you on a needful revolution necessary for changing the Ghanaian people. Whichever way the revolution comes, we all, including the revolutionists shall bare its consequences even if the revolution devours the revolutionists like history accounts for the fall of the Bastille.
Sir, at this juncture, permit me to encourage you to keep pushing harder on your dreams. Your executive position in NAHSAG should not be seen as a grounds for enriching your pockets or subduing your constituents. Leadership is a privilege not a right and you must see your presidential role as one that was won out of the goodwill of your NAHSAG constituents. Your abilities would have meant absolutely nothing if your delegates denied you their mandate. So, respect and fight with and for them.
Leader Moses Bondong, on this occasion of your birthday, I join many of your loved ones especially the parties of the National Health Students Association of Ghana (NAHSAG) to celebrate your age, worth and dedicated service to humanity. Sir, I also join the writer of 3John 1:2 to wish above all things that you may prosper and be in good health even as your soul prospers. Live long and continue to stay a blessing. Happy birthday.
Yours True Brother
Reindolf Amankwa of CTI-Middle Belt