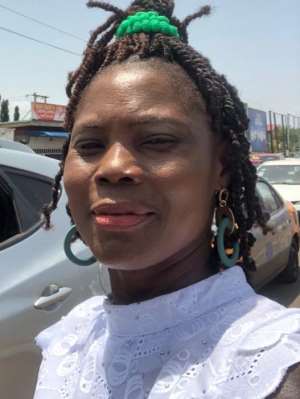 Madam Edwina Okuoadjo
The lifting of the lockdown necessitated by the Coronavirus pandemic came as a great relief to many who were badly affected.
The period saw the distribution of food, foodstuffs, and relief items to vulnerable groups across the country by state institutions, benevolent organizations, and philanthropists.
To the President of the African Women for Peace and Development (AWOPEDEC), Madam Edwina Okuoadjo, who is also a philanthropist, though it was an unfortunate occurrence, the lockdown provided Ghanaians with the privilege to show their love to each other.
"It was a rare privilege to express our love to each other and to be reminded of the fact that we are each other's keeper," she stated as she looks back at how the period exposed the difficulties many vulnerable persons face in their day-to-day lives.
During the period, Madam Okuadjo, a Philanthropist and Educationist, took time off to distribute food to the staff of LEKMA Hospital at Teshie Tsui Bleoo, some Persons with Disability (PWDs), residents along the Teshie beach, among others.
"I was shocked at the way the lockdown affected many people, some of whom were considered well-to-do. It was a learning experience that should remind us of our responsibility towards each other in society," she disclosed.
"On some occasions during our distribution of food, we were overwhelmed by the numbers that came to pick packs of food. The Police and Soldiers had to come in to restore order and maintain social distancing," Madam Okuadjo recalled.
She appealed to government, organizations, and individuals to capitalize on the opportunity to reinforce their social responsibilities and to maintain a continuous programme to support the underprivileged in society.