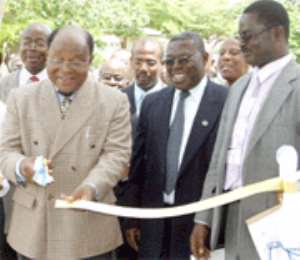 Computer Science students of the Valley View University (VVU) have developed a computer software for the automation of the services of the Electoral Commission (EC), Drivers and Vehicle Licensing Authority (DVLA), the Prisons Service, Ghana Telecom and other key sectors of the economy.
Eight of the various software developed by the students were exhibited Wednesday at a programme dubbed ICT EXPO 2006, organised by the VVU, at Oyibi.
The President of the VVU, in an interview, said the software developed was part of the project work of the computer science students, which took them one year to complete.
?We wanted the students to apply what they had studied in the classroom and produce something which would benefit the whole nation and we are proud of them for the good work they have done?, he said.
In a presentation, one of the programme co-ordinators, Ms Ethel Delali Cofie, said a system for the collation and generation of electoral statistics, exhibited at the programme, had been developed to provide a working electoral statistical information.
She explained that the system could receive inputs at each polling station, collate and transmit the results to a database before it was transmitted to the constituency.
Another software is an Online motor vehicle registration system to be used for the operations of the DVLA.
One benefit of the system is that it can reduce the cost of running the DVLA by cutting down on the number of human hands needed for the registration process and waiting time of DVLA clients.
Another product is the prepaid toll management system intended to manage, monitor and co-ordinate the processes at the many toll gates along the country?s roads.
The toll management system, which can increase government revenue, can identify stolen cars and reduce corruption because no money is used in the transactions at the toll gates.
Among the other projects exhibited were an Online telephone directory system and a nurse call system to facilitate monitoring of ward patients by nurses, as well as Management Information System for Prisons Service and a ?School Uni-Management System? for the effective administration in any tertiary institution.
Minister of Communications, Prof. Mike Oquaye, who inaugurated the project, commended the students for applying the theory of their computer studies to the benefit of the nation.
Prof. Oquaye expressed the hope that the organisations for which the software were developed would interact and co-operate with the students and supervisors on how to practically apply the products.