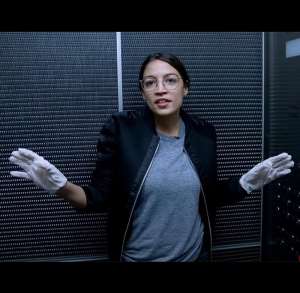 Alexandria Ocasio-Cortez, Representative of New York 14th Congressional District since 2019, has advocated for a boycott of work by all American workers.
Appearing on VICE's Seat at the Table with Anand Giridharadas, Alexandria Ocasio-Cortez urged Americans not to return to work, she was in fact very loud with; "I think a lot of people should just say, no, we are not going back to work."
Her urge of citizen of America for this action drums at the back of decisions by some states to partially reopen their respective economies in response to the updated information on the Chinese coronavirus pandemic, with southern states such as Texas, Georgia, Tennessee, South and Colorado leading the charge.
This call by her smacks madness and can only be made by someone who wishes a total collapse of the American economy and a loss of its power and influence among the world economies, she does not wish America well and as a result, her district needs another caretaker who has America more at heart.
Actually, ever since her election, she has never made any meaningful statement, all she has been about has been the push of deceit, sexism, bigotry, racism, divisiveness among the citizens of America, and other needless agenda parallel to the growth of America and the seat she represents.
Moreover when it comes to the general welfare and progress of the economy of America, she is worse than Joe Biden and Democratic Party's quest to destroy Bernie Sander; I am still shocked Old man Bernie and his followers are still with them as the Democratic Party has continuously showcased that they have never had use for his philosophy and vision due to their constant description of him as an outcast.
Alexandria Ocasio-Cortez should make no such mistake with her thought that she can convince America with her deceit borne out of Democrats' greedy and selfish desires for the unproductiveness of America because old Bernie and his followers are even smartening up to leave just as Jones Vernon has been bold to do.
The light of discernment brightening up and revealing the good plans of Donald Trump and the Republican Party is wearing away the deceptive scale from the pupil of people's eyes every day and as a result, the majority are being clarified with the truth every day.
Democratic Party is fast sinking deeply every day and there is nothing Alexandria, Pelosi, Biden, Obama, and any other can do to save it.
Hhhmm, May God be praised always
Nana Kwadwo Akwaa
([email protected])
Member, Critical Thinkers International (CTI)