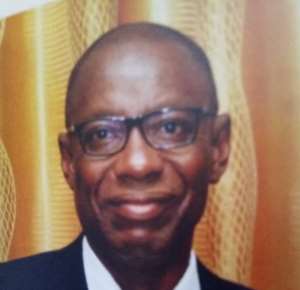 A Lecturer and Counseling Psychologist of the University of Cape Coast Dr. John Attram has said humans love their freedom and as such the partial Lockdown was seen as a form of punishment and even people in those places where there was no Lockdown jubilated after the President announced the lifting of the partial Lockdown. "This was expected because humans being love their freedom".
He said even in the partial Lockdown people were not respecting the Lockdown rules including tricycles riders who didn't adhere to the rules as directed by authorities. He added that the human brain that is telling him or her to be careful such that s/he wouldn't die that same individual would be thinking about survival hence the decision to go out and work would also be there as well.
Dr. Attram continued that we can go about our normal economic duties but be very cautious and adhere to all protocols as given by the Ghana Health Service and also limit our economic activities in these times of crisis. He admonished all citizens to wear their mask, use sanitizers, wash hands regularly and also adhere to the physical distancing as prescribed.
The counselling psychologist gave his experience that just recently, a friend called him to come to his house and counsel his wife for him. To his surprise his friend hugged him unawares and when he was leaving, shook his hand as well. "All the noise we were doing on air most people have not heard about it".
When asked what can be done about this situation, he said people must be motivated to stay home and do what is right. He said all American citizens have received an alert from their Bankers indicating that their stimulus package from the US government of $1,200 had been paid. "Even though some of them are not in America, they got their money and were very happy". When people are supported economically, then they may begin to appreciate what all the education going on means and be compelled to act aright. "The human mind is very funny and sometimes it is only what they see that can affect them. Because people are not seeing Covid-19 victims with their eyes, most Ghanaians are assuming it doesn't exist".
Responding to whether we should begin to show victims of covid-19 to the citizenry, he answered that that would bring about fear and fear has both positives and negative consequences on people. He continued that fear arising from Covid-19 can arouse the interest in people to do as directed by the President of the Republic. He asserted that, "all the president wants to put across is that we should wear nose mask, wash hands regularly, use sanitizers and adhering to social distancing would help us avoid Covid-19".
He was speaking to Ben Nartey today Monday 23rd April 2020 on GBC Radio Central's Central Morning Show on the topic " Increase in the Covid-19 cases in Central Region, the lifting of the lock down and it's psychological effects".
Dr. Attram averred that education on how the disease spreads should be explained because there is too much information around and some education must be done to correct the misconception and misinformatio. He further added that by now we ought to have been able to have eradicated malaria by now from our population but all the things we do that allows malaria to persist are still being done by us and we have repeated same practices for several years. This is how humans are.
Blacks and Whites are the same but the difference between us and them is that our society in Ghana "is too permissive and that doesn't augur well for progress". He said in some countries, one can be shot for trespassing but in Ghana if you complain that someone has trespassed on your property and you complain, you are seen as an unfriendly and arrogant neighbour within the community.
He recounted his experience in the US that, he was walking with his wife's sister, someone spat on the road and the sister-in-law screamed that "this is disgusting" and the gentleman apologised. He said when they walked a little ahead he asked her "how come the gentleman apologised"? Her in-law answered that, if that gentleman had misbehaved, she would have called the police and they would have arrested him. "This is how some people have built their society and same we must do".
In concluding the discussion, Dr. Attram said it would have been better if the Lockdown was extended to other parts of Ghana. "That would have served us a wake up call to Ghanaians to wake up to the reality of Covid-19. Education is key to the fight of the coronavirus pandemic".