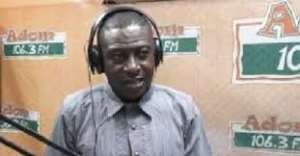 In the Akan original, the maxim runs as follows: "Nkwankyen/Okwankyen ade yefe a, wode sika na eye," roughly translated as, "Any beautiful architectural landmark beside a highway, was built/constructed with money." It is not clear to me why Captain Smart, the Adom-FM Radio presenter/host, seems to think that it is imperative for every musician who participated in the recent COVID-19 Tracker App launch that was sponsored by the government ought to, perforce, have done so gratis, or for free. And, also, that even musicians who might have offered to perform voluntarily but were, nonetheless, offered an honorarium of GHȻ 5,000 apiece, as the Addo-Kufuor nephew has reportedly alleged, ought to have publicly disclosed the same to the media. The honorariums, we are told, were passed onto the participating musicians by the Government through the Minister of Communications and the ruling New Patriotic Party's Member of Parliament for the Ablekuma-West Constituency, in the Greater-Accra Region, Mrs. Ursula Owusu-Ekuful (See "COVID-19 App Launch: You'll Suffer Extremely – Captain Smart Curses Ursula, Lying Musicians" Ghanaweb.com 4/22/20).
I can well appreciate the professional stance of Mr. Smart – funny, this obsession with European names by Western-Missionary-Schooled Ghanaians – as a media practitioner myself. But the fact still holds that if, indeed, the participating musicians had, each and every one of them, volunteered to perform gratis, or free of charge, but were, nevertheless, unilaterally presented with such handsome tokens of appreciation, then I really don't see the reason why their failure or even flat refusal to publicly acknowledge or declare the same to media reporters and presenters ought to matter, anyhow. I mean, I don't suppose that Captain Smart is either too young or too naïve to appreciate the fact that government and cabinet appointees like the Communications Minister have duly sworn an oath or even oaths, that is several oaths, of secrecy that privilege them to keep the details of some of their activities close to the vest, either within the "smorgasbord" name of national security or an official privilege of one kind or another. I also don't suppose Captain to have been working for free on the same subject for which he so self-righteously impugns Mrs. Owusu-Ekuful and participating musical acts.
I don't suppose Ghanaian media operatives and practitioners to be among the most naïve and stolid on this planet. And if one lone ranger among the participating crooners decided to squeal about what was supposed to have been a closely guarded secret, then, of course, it is the choice and right of that "liar," as Ghanaians are wont to say. It may also be of some interest that immediately prior to the launching of the COVID-19 Tracker App, the locally renowned and interminably rambunctious rap act, Shatta Wale, had been in the news headlines disdainfully warning the Government that he would not lend his talent gratis towards any noble efforts aimed at fighting off the fast-raging and folk-felling COVID-19 Pandemic. So, it is not as if a government staunchly and fully dedicated to using all forms and means of fighting off the COVID-19 Pandemic really had any choice but to shell out a cedi here and a pesewa there. And, by the way, the honorarium payment of GHȻ 5,000 to the musical acts who performed in the COVID-19 Tracker App Virtual Concert is not really a big deal, especially when one considers the fact that it takes more than one person to constitute a full-band suit of any remarkable societal presence or significance.
You see, what most Ghanaians need to worry themselves silly about or over are such globally criminal acts of COVID-19 Pandemic proportions as the $ 5 Million (USD) European Airbus SE and the Turkey-based AKSA energy company's Payola Racket, both of them involving representatives and assigns of the previous John Dramani Mahama-led government of the National Democratic Congress (NDC). In the AKSA Payola Racket, as well, at least the bribery sum of $ 5 Million (USD) was also reportedly used to secure undue contractual advantage for AKSA, which may or may not have resulted in the production and distribution of electricity worth the cedi/dollar sum of Ghanaian taxpayer money, though I very much doubt it, since there was absolutely no let in the chaotic severity of Dumsor throughout the four-and-half-year watch or tenure of then-President Mahama.
You see, what I really want to see the Ablekuma-West NPP-MP undertake with alacrity, as it were, is for Mrs. Owusu-Ekuful to resolve whatever problems may be standing in the way of having Radio Gold and Radio XYZ back in business in the leadup to Election 2020, so as not to give her main political opponents any facile pretext for certainly suffering their fast-approaching appointment with the apocalyptic defeat which the Mahama-led National Democratic Congress is bound to sustain once again.
*Visit my blog at: kwameokoampaahoofe.wordpress.com Ghanaffairs
By Kwame Okoampa-Ahoofe, Jr., PhD
English Department, SUNY-Nassau
Garden City, New York
April 22, 2020
E-mail: [email protected]