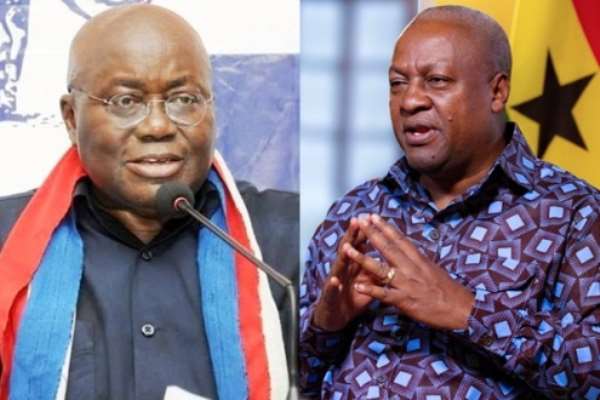 It just goes to show you just how desperate the leaders of the country's main opposition National Democratic Congress (NDC) may be. Sammy Gyamfi, the so-called National Communications Officer of the NDC, may very well require immediate psychiatric examination. You see, if all that the NDC opposition communication operatives were looking for, in order to make themselves politically relevant in the ongoing discourse on the statistical impact of the Coronavirus Pandemic, was to see and/or hear President Addo Dankwa Akufo-Addo get publicly contradicted by Dr. Nsiah Asare, the President's own Special Advisor on Health, then, of course, the National Democracy Congress' operatives are highly likely to remain on the sidelines of opposition political culture for a very long time to come (See "Akufo-Addo Claim of 68,591 Tested for COVID-19 Is Barefaced Lie – Sammy Gyamfi" 4/22/20).
In this Modernghana.com-generated news story, we are informed that during his 7th and most recent National Address on the Coronavirus Pandemic, Nana Akufo-Addo had noted that some 68,591 people had been tested, and that there remained a backlog of 18,000 tests to be conducted whose results were yet to be determined and tabulated. Now, if, according to Mr. Samuel "Sammy" Gyamfi, the so-called National Communications Officer of the NDC, Dr. Nsiah Asare had reported, shortly after President Akufo-Addo's National Address, that the statistical figure given by the President, that is, 68,591, contained some duplicates, what this simply means is that Nana Akufo-Addo had quoted figures or a figure that was much higher than the actual cases of the number of COVID-19 tested individuals. If, indeed, the figures included duplicates that President Akufo-Addo is highly likely not to have been aware of at the time of his National Address, there is still absolutely no contradiction here; you see, Dear Reader, honesty is one of the salient leadership qualities that are woefully and sorely lacking in the camp of the Mahama-led National Democratic Congress.
What this simply means is that the figure handed to Nana Akufo-Addo by experts in the field were tentative and had not been officially ascertained; unfortunately, however, the President had apparently not been informed as such by his speechwriters. It was, to be certain, a blunder all right, but a blunder that was not the least bit worthy of making a hurricane out of a teacup about, since the process of the tabulation of the potential number of patients tested for COVID-19 and/or declared to be positive for the Coronavirus Disease is still ongoing all over the country, and therefore practically tentative at any given moment. Is Mr. Gyamfi hereby suggesting that the President is morbidly eager to claim that a higher figure than has actually been COVID-19-test persons is desperately needed by Nana Akufo-Addo to boost his chances in the 2020 Presidential Election? What kind of arrant stupidity is this?
I mean, here we are with a President who has achieved more than virtually every one of his Fourth-Republican predecessors, and literally cruising towards another seismic Election 2020 victory, and a cocaine-addled Mr. Sammy Gyamfi would have Ghanaians believe that Nana Akufo-Addo has any need to inflate the figure of the number COVID-19 Ghanaian citizens and residents so far tested in order to establish the primacy or preeminence of his leadership?! I also don't know that Nana Akufo-Addo has any need to deliberately inflate the figures of COVID-19-tested Ghanaians in order to affirm his already widely acclaimed leadership capacity and profile throughout the African Continent and beyond, in the deft and emotionally and intellectually mature manner in which the former Foreign and Sub-Regional Integration Minister has, so far, handled this patently unprecedented crisis in the Primeval Continent's most recent political history.
For his information and that of the cynical opposition leaders among the ranks of the National Democratic Congress who reason so jejunely like Mr. Sammy Gyamfi, these statistical glitches happen all the time during hectic moments like the present one in our national affairs; it also routinely crops up during the tabulation of election results in our country, because the latter process, by its very nature, is quite complicated and one that requires a lot of patient deliberation and systematic analysis. As of yet, we don't even know specifically how many of the 68,591 test results are duplicates. Still, it is all too apt to presume that once all the figures have been meticulously revised to reflect the actual numbers of potential COVID-19 victims or patients tested around the nation, that the final figure would not be any significantly lower than that with which the President was provided prior to his most recent national address. And on the latter count, of course, we are thinking about the 18,000 tests whose results have yet to be added to the national tally.
You see, a serious-minded opposition political operative would rather be concerned about the fact of whether adequate and scientifically viable COVID-19 testing facilities exist around the country and are evenly distributed around the country as well. You see, arrant stupidity is the strong suit of NDC agitprop alarmists like Mr. Sammy Gyamfi. With this kind of abjectly infantile and callow level of thinking or, rather, the abject lack of critical thinking skills, it is not clear what significance his recent acquisition of a law degree will redound to the benefit of his party in the leadup to the 2020 General Election.
*Visit my blog at: kwameokoampaahoofe.wordpress.com Ghanaffairs
By Kwame Okoampa-Ahoofe, Jr., PhD
English Department, SUNY-Nassau
Garden City, New York
April 21, 2020
E-mail: [email protected]