Gun battles rage on in Mogadishu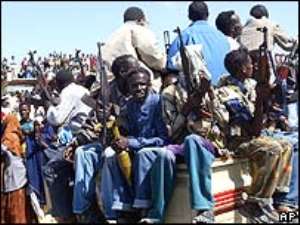 Fighting is continuing in the Somali capital, Mogadishu, for a second day with at least six people killed and six others wounded in a gun battle.
The fighting is between militia loyal to the Islamic Courts and the Anti-Terrorism Alliance, a secular grouping of warlords.
The latest upsurge in violence comes despite a truce being agreed between the two groups 10 days ago.
More than 100 people died in eight days of fighting earlier this month.
Heavy clashes are being reported in the south and the north of the city.
Somalia has had no effective government since the overthrow of President Siad Barre in 1991.
Meanwhile, several ministers involved in the fighting are reported to have resigned from the transitional government, saying that the rest of the government had not been doing enough to stem the unrest.
Reports say their resignations came as they failed to meet a government ultimatum to join the rest of the ministers in the town of Baidoa, where they had been meeting.
But Security Minister Mohammed Qanyare Afrah later denied that he had resigned.
Grenades
Many of the dead and wounded were non-combatants caught up in the gunfire on Wednesday were around CC neighbourhood in north Mogadishu.
"I saw two dead bodies lying in the street through my window," local resident Hassan Yare, told the BBC.
Doctors at Madina and Keysaney Hospitals have also confirmed that six people were killed in the battle.
"We have lost one our men in the battle, and I am sure six of our rival men were killed," Abdi Dalab, a militia commander for Alliance forces said.
There was no independent confirmation of this claim.
Abdi Dalab also accused the Islamists of violating the ceasefire.
The leaders of the Islamic Courts could not immediately be reached for a comment on the latest clash.
The clash began at midnight and intensified once daylight arrived, with the two sides using machine guns and rocket propelled grenades.
Both sides have been massing troops into the area since local traditional elders brokered the truce.
Hundreds of residents who had been optimistic that tensions were easing have again begun to flee from their homes around Yaqshid and Kaaraan districts.
Despite requests by the traditional elders, neither side wants to withdraw fully from the area, because both sides believe they have a right to control CC and surrounding areas.