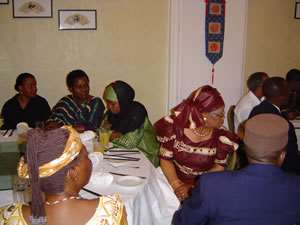 A total of 315 teenagers between the ages of 10 and 19 have been diagnosed of full blown AIDS.
Mr. Silas Quaye of the Ghana AIDS Control Programme Unit of the Korle Bu Teaching Hospital said the number represents AIDS cases among young people in 2005. 193 of those diagnosed of the disease are girls while 121 are boys.
He pointed out that the number is an increase over last year's which was 289 and explained that teenage girls aged between 15 and 19 are the worst hit.
Mr. Quaye noted that teenage girls recorded 131 cases as compared to 57 for boys. In 2004 girls again recorded an increase of 127 as against 54 males.
According to him, there has been no significant increase in the recorded number of cases for girls and boys between the ages of 10 and 14 since 64 registered for girls and 62 for boys in 2005 as compared to 53 and 55 cases recorded in2004.
Mr. Quaye further revealed that the Under 4 age group which recorded 603 cases presents the highest in the group so far. This, he said showed an increase compared to 552 cases registered in 2004.
He however said in spite of the increase in the number of cases in some of the age groups, there has been a reduction in cases among ages 5-9 which recorded 227 as against 335 in 2004.
Mr. Quaye was happy to note that the overall number of cases recorded from under 19 has seen a reduction from 1,196 in 2004 to 1,145 in 2005.
The Director General of the Ghana AIDS Commission, Prof. Awuku Amuah, said even though the prevalence rate among the youth had decreased, the commission was putting measures in place to intensify its education.
He said the commission with the support of UNICEF and in conjunction with the Ministry of Education, Science and Sports as well as HIV focal units, would from next month, introduce a comprehensive HIV/AIDS alert programme in schools to educate students, teachers, and the communities about non – risk behaviours.