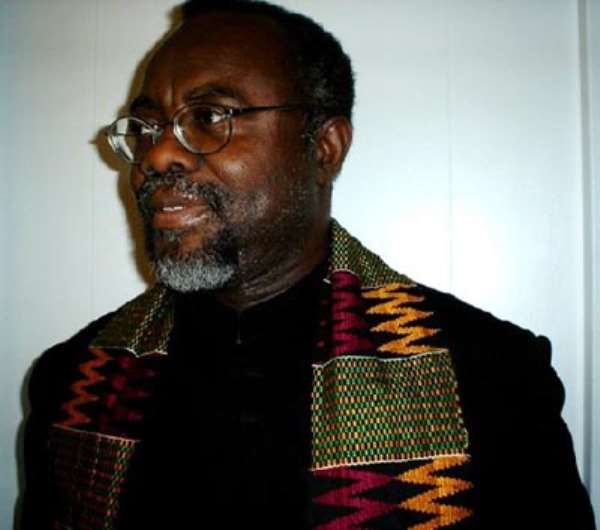 Author: Kwame Okoampa-Ahoofe, Jr., Ph.D.
It all boils down to a question of credibility; and when it comes to the latter, there are not many critically thinking Ghanaians who really believe that anybody who has had a considerable span of intimate working relationship with Mr John Dramani Mahama in the air transport and energy business has any remarkable modicum of respectability and/or credibility. Until the auspiciously seismic, but not altogether unexpected, announcement came about a week ago, that Mr Asante Berko, at the time the Managing-Director of the Tema Oil Refinery (TOR), may have been indicted by the operatives of the US Federal Government's Securities and Exchange Commission (SEC), on charges of having been criminally used by a Turkey-based energy-production company, by the name of AKSA, to bribe some operatives of the erstwhile Mahama-led government of the National Democratic Congress (NDC), to the whopping tune of $ 4.5 Million (USD), in order to enable AKSA to unduly advantageously obtain a lucrative business contract in Ghana, at the expense of fair play and best practices in the industry, most of us were still fixated on the European Airbus SE Payola Racket also involving the same erstwhile Mahama government and roughly the same amount of bribe money.
The good news here is that Mr Asante Berko, an apparent executive crossover from the Mahama regime, promptly tendered his resignation letter to President Addo Dankwa Akufo-Addo, even while vehemently protesting any charges of criminal culpability. We have already discussed the preceding issue in a previous two-part column and therefore do not find it necessary to rehash the same issue in the present column. But what is significant, if also because it is very annoying, to point out is the auto-kneejerk tendency for any Mahama operative or former operative, brought up on charges of criminal culpability, to quickly sprint to the media airwaves in a cynical attempt to either squelch or stifle any healthy public discussion, in an obvious bid to controlling the possibility of damning evidence that may very well filter into the public domain and thus complicate matters for these professionally certified scam-artists. The United States' Securities and Exchange Commission may very well have been tipped off about this patent case of rank corruption, primarily because of the unfair international business practices involved in the AKSA deal.
But even more significant must be taken into account the fact that under its Millennium Challenge Account (MCA), the United States' Government has heavily invested in Ghana's Energy Industry and is therefore obligated to ensure that best ethical practices in business prevail. In view of the foregoing state of affairs, staunch and intimate Mahama clansmen and executive lieutenants like Mr. John Jinapor, the former Deputy Energy Minister, have absolutely no right to either lecture or instruct law-abiding Ghanaian citizens how and what to comment about vis-à-vis the ongoing saga which, like the European Airbus SE Payola Scandal, has become the salient operational hallmark of the Mahama Posse, which has been fiercely fighting to be allowed by the Ghanaian electorate to get back to Jubilee House and proceed with business as usual.
Mr. Jinapor – to be strictly differentiated from Mr. Samuel Abu Jinapor, the Akufo-Addo Deputy Presidential Chief-of-Staff and the younger brother of Mr. John Jinapor – vehemently denies that he had had any direct involvement with the scandal-wracked AKSA energy deal, and that it was Dr. Kwabena Donkor, the extant substantive Power Minister, who led the official discussions that culminated in the AKSA energy deal. We are not buying this veritable snake-oil salesman's confidence game. For, as the "Real" Deputy Power Minister and the clansman and the most intimate and trusted Mahama appointee, the other member of this team of trusted scam-artists was Mr. Mahama Ayariga, the former Minister of the Environment, Science and Technology and, before the latter post, holder of a half-dozen other ministerial portfolios, the divvying up of the payola sum of approximately $ 5 Million (USD) among a trifecta, beginning with the Mahama Presidency, where Mr. John Jinapor was widely known to have spent most of his ministerial time hobnobbing with Little Dramani; then the National Democratic Congress' extant Parliamentary Majority hoodlum pack of plagiarists and criminal scofflaws, and double-salary drawing Mahama Ministerial Cabinet Appointees and Executive-Directors of a platoon of State Enterprises, without the inevitable and perpetual presence of the Mahama Pizza Delivery Man?
Whoever bought such rancid scatology? At any rate, for now, it well appears that the Bole Payola Mafia Scam-Artists have decided to, literally, throw Dr. Kwabena Donkor, the conveniently fired custom-tailored Mahama Power Minister, and his then-New York City-resident Goldman Sachs Affirmative Action-hired Payola Loot-Maker under the metaphorical bus. Even so, Mr. John Jinapor and his self-infatuated bossy clansman – Remember: "You cannot criticize my job performance because you have never been elected President of Ghana before"? – ought to rest assured that it is only a matter of time before the AKSA payola paper-trail lands right on their doorsteps. You see, when the Feds come calling, you may, by all means, try to run; but the time-proven fact of the matters is that though you may run as fast as steroid-hooked Olympics sprinter, at least for quite a while, you definitely will not be able to hide. If you don't trust my word, Dear Reader, just remember what happened to Messrs. Saddam Hussein and Muammar El-Gadhaffy.
You see, the globally fabled American Tar-Baby is no wuss or the kind of droop-dicked creditor or landlord to mess with. You just mark this testimony on the fat skin of one of those Salaga-Market Yams or Goats near Zongo Lane. Or even your Facebook's Wall, if you have been away from Bole for quite a while and have presumptuously assumed the hauteur mien and airs of "An Agyeman," that is, one of those "Call Me Gyiman-Prempeh" chip-shouldered Niggers. Chip-shouldered "Otani," I really wanted to say, but I fumbled because one of my own ancestors came down here from thereabouts. You know, "In the morning you call me 'Kayakaya,' but come nightfall, you go call me 'My Paapa.'" You see, when the Feds come calling for you, you simply cannot hide, unless they mercifully decide to let you off the hook for the none, so they may be able to call in their favors down the pike. You know, the Feds are like Nemesis, you never wrong them without paying dearly for the same. You just mark this on the wall. On your "Colonial Virus," that is.
*Visit my blog at: kwameokoampaahoofe.wordpress.com Ghanaffairs
By Kwame Okoampa-Ahoofe, Jr., PhD
English Department, SUNY-Nassau
Garden City, New York
April 19, 2020
E-mail: [email protected]