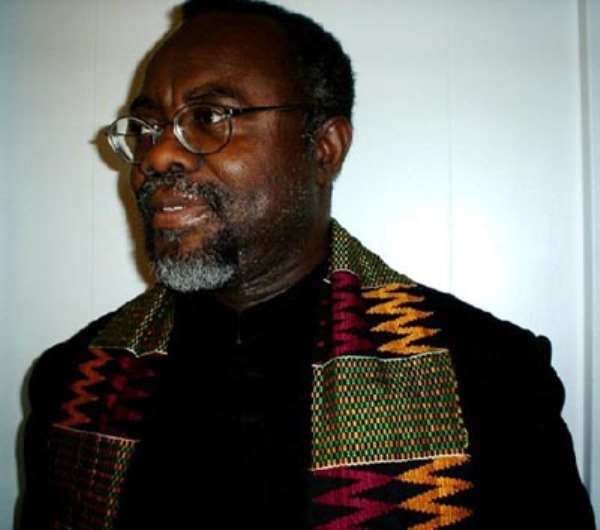 Author: Kwame Okoampa-Ahoofe, Jr., Ph.D.
People and politicians who doggedly, viciously and jejunely pursue a Cash-and-Carry Healthcare Policy and are vehemently opposed to President Addo Dankwa Akufo-Addo's Fee-Free Universal Access to Ghana's Senior High School System, can only be expected to prowl our city streets and alleyways looking for negative stories to tell about the progressive and visionary social-intervention programs launched by their political opponents. This was clearly what Dr. Zanetor Agyeman-Rawlings, the eldest daughter of strongman and former President Jerry John Rawlings, sought to do when she went looking for cheap and tawdry stories about the Coronavirus-induced emergency food-distribution exercise that would make Ghana's most progressive Fourth-Republican government look as exclusivist and ideologically discriminatory as the erstwhile Chairman Rawlings-led junta of the Provisional National Defense Council (PNDC) and the faux-democratically elected so-called National Democratic Congress (NDC).
You see, we need to be frank, honest and realistic about the fact that in the realm of the purely human, there is always bound to be those among the proverbial pack who are bound to break the rules, irrespective of which of our country's two major political parties happens to rule the roost. I don't doubt for a moment that there were ruling party operatives who took illegal and illegitimate advantage of the Coronavirus Pandemic-induced socioeconomic crisis in the country to play politics, as they have known it to be rampantly employed under previous National Democratic Congress' regimes, with the charitable emergency food-distribution network recently launched by the pathologically politically inclusive President Addo Dankwa Akufo-Addo to significantly alleviate the plight of the nation's lumpen poor and destitute.
But we can also be equally certain that amidst such food-distribution irregularities, for the most part, the overwhelming majority of the food-distribution operatives were and have been operating strictly along the inclusive and conscientious guidelines issued by the Akufo-Addo Presidency and the relevant ministerial portfolios concerned. And, on the latter count, of course, we have in mind, the Ministry of Food and Agriculture; the Ministry of Children, Gender and Social Protection; and very likely, the Ministry of Local Government and Rural Development. The list of ministerial participants could be a bit longer. But, of course, what is equally significant to point out here is that to make her case credible, had she wanted to do so, or were she a fair-minded politician, the National Democratic Congress' Member of Parliament for the Klottey-Korle Constituency, Accra-Central, could have also meticulously gone around and monitored food-distribution situations or cases in which the distributors were not scandalously playing politics with this emergency policy measure.
And then her case of criminal or flagrant partisanship would have made quite a lot of sense and more believable. You see, it is quite obvious that this was what the National Democratic Congress' Member of Parliament for the Ablekuma-South Constituency, also in the Greater-Accra Metropolis, Dr. Alfred Oko Vanderpuije, was reportedly doing when the former Greater-Accra Mayor, duly and promptly notified Ms. Cynthia Morrison, the Children, Gender and Social Protection Minister, about the curious and morally untenable fact that some of the government-commissioned emergency-food distributors, were glaringly, criminally and unconscionably playing partisan politics with this most serious endeavor. You see, Dear Reader, we do not live in the sublime realm of angels and saints for any mature adult-Ghanaian citizen to naively suppose that the conduct of these emergency-food distributors, each and every one of them, would be well over and above board or reproach, as it were.
But, of course, we equally recognize the fact that not each and every Ghanaian politician has healthily transcended the carcinogenic realm of partisan politics into that of a statesman or a stateswoman. Mayor or Ex-Mayor Oko Vanderpuije is one of the rare gems of socially responsible Ghanaian politicians who evenly, deftly and admirably combine the delicately defined roles of politicians and statesmen with enviable admiration. It is also quite clear that like her own politically divisive father and former president, Chairman Jerry John Rawlings, Dr. Zanetor Agyeman-Rawlings is a rabble-rousing populist politician who has yet to fully appreciate the stark difference between a run-of-the-mill partisan political hack, which Dr. Zanetor Agyeman-Rawlings veritably is, and the enviable statesmanship profile of the far more emotionally and intellectually mature and levelheaded Ex-Mayor Alfred Oko Vanderpuije. A word to the wise…. Or, is it rather, a word to the fool?
*Visit my blog at: kwameokoampaahoofe.wordpress.com Ghanaffairs
By Kwame Okoampa-Ahoofe, Jr., PhD
English Department, SUNY-Nassau
Garden City, New York
April 18, 2020
E-mail: [email protected]