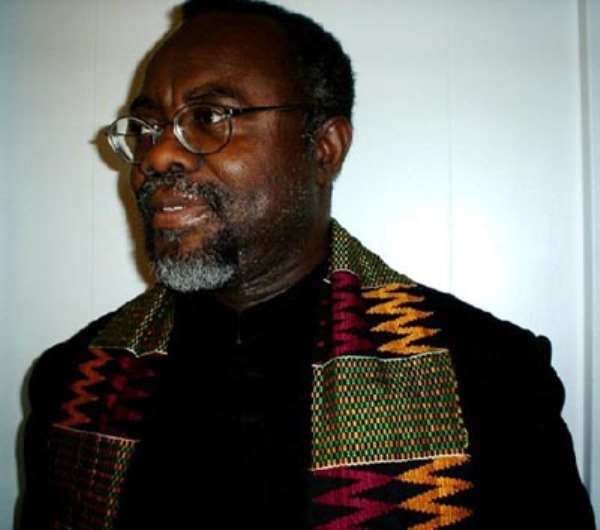 Author: Kwame Okoampa-Ahoofe, Jr., Ph.D.
He kept using the simple-present tense of the infinitive verb "to spend," when he clearly ought to have been using the present-participle or progressive form of the verb, that is, the "-ing" form of "send," which, of course, is "spending." Which, of course, could be equally used as both an adjective and a noun. So, right off the bat, I knew that Alexander Kofi Mensah Mould was in a hurry to have his article captioned "Alex Mould Writes: Govt Must Communicate, Implement Coronavirus Alleviation Program Strategy Now" (Modernghana.com 4/18/20) published. This is the kind of economic advisory and proposals that the former Managing-Director/Executive-Director of the Ghana National Petroleum Corporation (GNPC) ought to have been writing and publishing throughout the four-and-half protracted years that the abjectly clueless extant president, namely, Mr. John Dramani Mahama, who also appointed Kofi Mensah to the job of GNPC Boss, was smugly and capriciously twiddling and fiddling with the Dumsor-inflected economy of our country.
On the whole, I like most of what he writes about the way that he thinks the Akufo-Addo government needs to be steering the COVID-19-afflicted economy of the country, if, indeed, Nana Addo Dankwa Akufo-Addo wants to see Ghana's macro-, and micro-, economy be able to reasonably and fairly successfully survive the Category-5 Hurricane that is the Wuhan-, China, originated Coronavirus Pandemic that has effectively overwhelmed even the most industrially advanced economies of the world, particularly those in the so-called Western-European World. But, of course, we also recognize the fact that Kofi Mensah is merely doing what American baseball fans disdainfully call "Monday Night Quarterbacking," or well-after-the-fact analytical prognosis. You see, author Alexander Mould is not really doing what might be aptly termed as a "miraculous performance" here; but he is still doing some passable service for some of us nonprofessionally trained economists, especially vis-à-vis those of us bona fide Ghanaian citizens with a decent level of college education.
And by helping some of us to fully appreciate the general strategic stance of the Akufo-Addo Administration, vis-à-vis policy proposals aimed at helping the nation to successfully negotiate the worst impact of the Coronavirus Pandemic on our nation's economy, the former GNPC Capo is doing what the leaders of his party's Parliamentary Minority ought to be doing on a daily basis to duly qualify for their keep, as generously salaried representatives of their constituents, to wit, the Ghanaian people at large. The proposals, by the way, Kofi Mensah tells us, were recently presented to Parliament on yours truly's birthday, that is, April 8, 2020, by the Finance Minister, Mr. Kenneth Kuntunkununku Ofori-Atta, and eponymously called the Coronavirus [Impact] Alleviation Program (CAP). In the aforesaid proposals, Mr. Ofori-Atta highlighted the decision by the Akufo-Addo government to make what clearly amounted to stimulus packages available to small-sized and medium-sized businesses.
Well, ironically, this was also where Kofi Mensah's predictable mischief caught me nearly falling off my chair. You see, desperate for a comprehensive and saleable policy proposal to squirrel into their electioneering campaign manifesto or agenda, it well appears that Little Dramani and his goon squad of platform-plank-stealing political scam-artists cleverly scouted out Cousin Kofi Mensah to cajole and trick the Akufo-Addo economic-policy wonks into letting on whatever goodies Jubilee House may have in its policy initiative bag – you may even choose to call it policy-trick-bag, My Dear Reader, if you so choose. They know we are more than 10 steps ahead of these faux-socialist democrats in the game. They'd be better off building more hospitals, like the proverbial castles, in the air or in their mind's eyes than cavalierly suppose that the Bawumia Economic Team (BET) could be so deviously and facilely tricked into publishing the loan amounts to be made available to the COVID-19-buffeted small- and medium-sized enterprises. As well as which banking institutions or establishments would be disbursing such stimulus packages.
You see, I admire this kind of Foolish Pride which presupposes that, somehow, it was the perfectly inalienable constitutional right of Little Dramani and his hoodlum pack of National Democratic Congress' Abongo Boys to mercilessly visit Dumsor on the proprietors of small- and medium-sized Ghanaian businesses without the need of meliorating the deleterious impact of the Dumsor tidal wave that literally sent one-third-plus of such enterprises crumbling and effectively and permanently going kaput, or out of existence; but that, somehow, Team Bawumia has absolutely no such right or policy choice in the present situation. Goodluck, Cousin Kofi Mensah!
*Visit my blog at: kwameokoampaahoofe.wordpress.com Ghanaffairs
By Kwame Okoampa-Ahoofe, Jr., PhD
English Department, SUNY-Nassau
Garden City, New York
April 18, 2020
E-mail: [email protected]