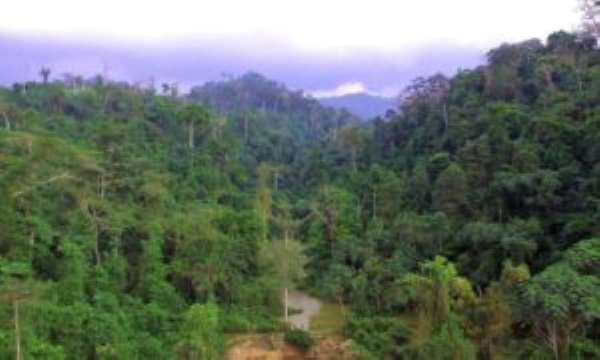 In the unusual and uncertain times we now live in, wise leaders worldwide, ought to listen to their people - and promptly address their COVID-19 era concerns. In that sense, U.S. President Trump, is a very, very wise leader: for backing those Americans who are protesting against the economy-destroying and undemocratic COVID-19 lockdowns.
Here in Ghana, as World Water Day (Sunday, 22 March, 2020) approaches, we must also commend environmental activist groups, such as the Eco-Conscious Citizens group, which are demanding that the government acts to protect the Atewa Forest Reserve by halting plans to allow bauxite mining in it - because it is the watershed for three major river systems, the Birim, the Densu and Ayensu rivers, sourced by the Ghana Water Company Limited (GWCL), for treatment to produce potable water, for over 5 million people in southern Ghana.
May God bless, protect and guide all the gallant members of the Eco-Conscious Citizens group, always. And many thanks indeed to the brilliant and young journalist, Sefanam Agbobli, for the words of wisdom contained in her very well-written article, entitled: "COVID-19: Use lockdown to clean our cities, protect Atewa forest – Group urges gov't". Cool.
And, hopefully, in light of the fact that today, the vast majority of Ghanaians have seen the important role the availability of potable water, in communities nationwide, plays, in ensuring the health of the citizenry (demonstrated so vividly, in the advice given by the authorities tasked to ensure public health across Ghana, that hand-washing under running tap water, helps prevent people from being infected by the dangerous and highly infectious COVID-19 virus; and reinforced by the government's dramatic and unprecedented lifesaving decision, to bear the cost of water for households across the country, for the next three months!); the government of President Akufo-Addo, will now finally come to understand, clearly, why they must no longer risk the well-being of the millions who depend on the three major river systems, which take their watershed from the Atewa Forest Reserve: and act swiftly, to rescind the terrible and amoral decision, to allow the mining of bauxite in the Atewa Forest Reserve.
Finally, it is important that all the members of our country's political class, understand clearly, that forced-regime-change can actually result from this burning-issue, if President Akufo-Addo does not ignore all his advisors, and personally take action to rescind that foolish and shortsighted decision, immediately. Yooooo. Hmmmm. Eeiiii, Oman Ghana, eyeasem ooooo - enti yewieye paaa enei? Asem kesie ebeba debi ankasa, oooo. Yooooo...