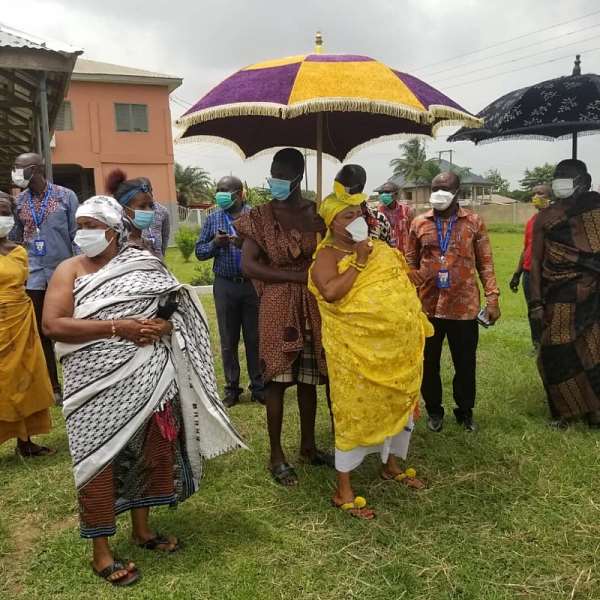 The Paramount Queen mother of Ejisu in the Ashanti region has called on security officials enforcing the partial lockdown in her paramountcy to beat up residents who defy the presidential directive.
"I see the young girls and boys always on the streets, left to me alone I support stiffer punishment like beating the recalcitrant ones on the streets. Beating will compel people with no business of being out to stay home and nurse the injuries than to die from the virus infection. When you beat them they will cook hot water to nurse their injuries, nobody will like to walk on the street with wounds,'' she said while making a donation to the Ejisu government hospital on behalf of the ECG boss Kwame Agyemang Budu.
She donated items including 2 automatic dispensers, 10 gallons of 4.5 litres of hand sanitizers, 30 gallons of 5 litres rubbing alcohol, 10 piece of veronica buckets and drain basin, 24 packets of hand gloves, 100 pieces of Deva hand soap and 240 pieces of ever pack jumbo towels among others.
Nana Yaw Asantewaa also commended the ECG boss for his donation towards Ejisuman in the wake of the pandemic.
Meanwhile, Coronavirus case count in Ghana has seen a marginal increase rising from 636 to 641 as of Wednesday night.
According to the Ghana Health Service, as of 14th April 2020, at 23:00HRS, a total of 50,719 persons have been tested with 641 being positive for COVID-19. The breakdown of the 641 positive cases are as follows: seventeen (17) have been treated, reverted to negative on repeat tests and discharged. Furthermore, 66 have tested negative once and awaiting second test.
This brings together a total of 83 cases that have been recovered/discharged. 548 cases have been categorised as mild disease and are on treatment, two (2) are categorized as moderate to severe cases, none in critical state currently and eight (8) have died.
The five (5) new cases were recorded in the following locations; one from Adenta Municipality and two (2) each from Ayawaso East and Ayawaso Central Municipalities. With the exception of one of the cases from Ayawaso East, all the new cases are asymptomatic. Contacts of the new cases are being listed for follow up.
Of the 641 confirmed COVID-19 cases, 268 were reported from two from the routine surveillance, 258 from enhanced surveillance activities and 115 from travellers who were previously under mandatory quarantine in Accra and Tamale.
Regions that have reported cases are Greater Accra, Ashanti, Central, Eastern, Western, Volta, Northern, North East, Upper East, and Upper West regions.
---Starrfm.com