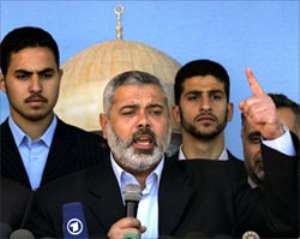 The US house of representatives has approved legislation imposing severe restrictions on US aid to the Hamas-led Palestinian Authority.
The legislation, approved by 361 votes to 37, would stop funding for aid organisations working in the West Bank and Gaza - except for health programmes - and deny US visas to members of the Palestinian Authority (PA).
It also forbids contact with Hamas, which won elections in the Palestinian territories earlier this year, and limits the US president's authority to waive such aid bans.
The senate will have to pass its own measure and a bill will still have to be signed by George Bush before it becomes law.
The bill passed as Bush met Ehud Olmert, the Israeli prime minister, in Washington and urged him to resume direct talks with the Palestinians.
'Harming peace'
The US government, which considers Hamas a terror organisation, has already stopped direct aid to the Hamas-led government but the new bill imposes even stricter measures.
Both the US and EU have frozen aid to the Palestinian government and refuse to deal with Hamas until it renounces violence, recognises Israel and abides by previous agreements.
However, Tony Snow, the White House press secretary, said that Bush was opposed to the house measure as it "tied the president's hands" in terms of providing the Palestinians with humanitarian aid.
"We think it unnecessarily constrains," Snow said.
Meanwhile, Nabil Abu Rdainah, adviser to Mahmoud Abbas, the Palestinian president, said that the bill "harms the peace process and undermines international efforts ... to lift the siege imposed on the Palestinian people".