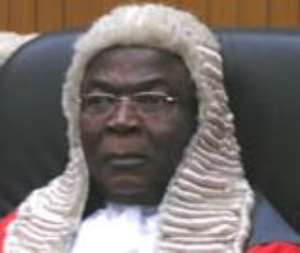 Lawyers for the editor of the Statesman newspaper, Frank Adjei Twum, have been explaining his decision to challenge the establishment of a committee to investigate allegations against the chief justice.
Mr. Adjei-Twum filed the writ after a committee was set up to investigate allegations of corruption and abuse of power against the chief justice.
The Supreme Court is expected to hear the case on Friday. Mr. Twum's lead counsel, Nana Asante Bediatuo, says the writ is not in defence of the chief justice.
"The matters contained in the petition sent by Mr. Bright Akwetey to the President are not in issue. We are talking about the constitutionality of the establishment of the committee without first establishing a prima facial case against the chief justice", he said.