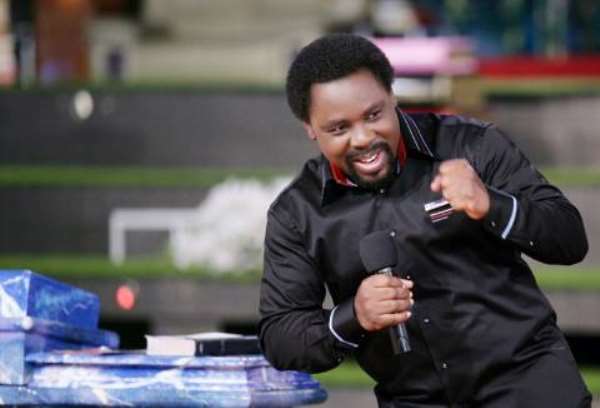 One agrees 100 percent with you, favourite nephew. The Holy Spirit does not mislead. Ever. Utter nonsense for T. B. Joshua to say he was misled by the Holy Spirit. How can that be possible, I ask? How dare he lie so blatantly, like that? Who born dog? Joshua is definitely a con man if ever there was one. Big time.
Just like that so-called 'Bishop' Owusu-Bempah - yet another shameless Ghanaian con man, using God's name to frighten foolish politicians: in order to get them to end up becoming beholden to him, to be milked endlessly, by that sod. Fools.
By the way, all the above revelations are straight from God Almighty, himself, oooo, Massa. I dey get connection paaapa. Yooooo. Hmmm...
As for our politicians, they are actually drinking in the Last Chance Salon, but don't realise it. The greedy sods. Serves them right - what is coming to them, that is. Greedy bastards most of them are. Cool.
What they are oblivious to, is that currently, the conditions are perfect for the next Jerry Rawlings to rise up, and disband the NPP/NDC duopoly, with immediate effect - to widespread acclaim from a thoroughly-fed-up population tired of their many big-lies and endless-thieving. Those two political parties are Ghana's two biggest criminal organizations.
That new Jerry Rawlings will then go on to maintain President Akufo-Addo (God bless him!), as leader of an emergency government of national unity - whiles serious housecleaning is carried out to retrieve all taxpayers' cash that has been siphoned off into private pockets nationwide. Insha Allah.
Even offering to build 1000 new National Cathedrals, now they have been made aware if this revelation, will not prevent what is going to hit them, from eventually occurring, Massa - and it will take place during a six-month lockdown: after our healthcare system has been overwhelmed by COVID-19 cases.
God Almighty revealed that to me direct, too, oooo, Massa - but unfortunately forgot to tell me the exact date, favourite nephew. I await his WhatApp message confirming it. Will tell you then. Cool.
As for National Security, they will have to cut open my head, to find that D-Day date, out, Massa. Yabre eni nkwasiasem, wai. Haaba. Hmmmm, Oman Ghana, eyeasem, ooooo - enti yewieye paaa enei? Asem kesie ebeba debi ankasa. Yoooooo...