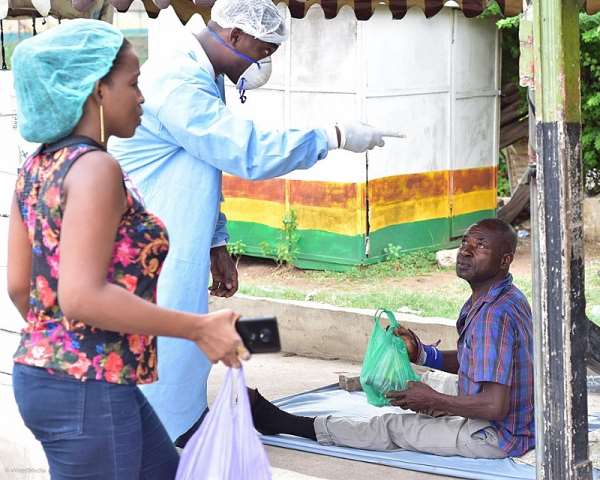 The light is on a dreaded Novel virus named COVID-19. But before that, let us look at the Hunta virus; it is an old flu-related condition managed elsewhere. Maybe our laboratories or a certain country's laboratory may not be able to test it so we may be ignorant.
Once it is heard the first time in the media then it's blown out of proportion then (some pastors do record videos as though they are prophesying they have made which makes it difficult for the health experts to get the education to the populace. Invariably, this increases fears & Panic.
Then naturally it makes people who are religiously notorious disobey safety precautions as well as people who naturally are careless also disobey instructions. )
Look, the fear can be real, even as medics, either general practitioners or infectious disease specialists. When you are called to see and attend to a suspected or confirmed case of Covid 19, Oh! my goodness, as human as we are, we will be scared. But we will attend to the case with the right PPEs. If the PPEs are not there, then we get worried, you need to pull clothes along, Primarily, we swore a Hippocratic oath to save lives but not a suicidal oath.
So we have a better understanding of the situation , we reiterate the need to be circumspect with what we put on social media ,with the Electronic Communication ACT, 2008 (ACT 775) you dare not create fear and panic via social media . Yes we know, the SARs , MERs and the havoc they caused as well as the Swine Flu in 1918 that killed over 50million humans , so we don't want to get there . Lets be working with the government. We may not have the best of health and emergency response structures but the government is trying within its limited capacities , LET STAY AT HOME, WASH OUR HANDS, HAND SANITIZE, STAY OFF 1 or MORE METERS APART , WEAR MASK WHEN YOU COUGH OR COVER YOUR NOSE AND MOUTH WITH TISSUE AND DISPOSE OFF IMMEDIATELY .
An infected person may present the following symptoms ( *sneezing, fever,cough, malaise etc*) or may be asymptomatic as well and as you talk , shout, sneeze or cough some nuclei of droplets may come out through the respiratory or mucosal secretions and are contagious in the air until they land on surfaces and then direct or indirect modes of transmissions becomes apparent when one touches the affected surfaces and then touches the eye , nostril and the mouth.
When the virus gets into the lungs and in advanced form causes respiratory challenges and hence, ventilators are needed to support life.
So the need to adhere to safety precautions and support the health staff has become a lifeline task for all.
Health staff anywhere on this planet are key in this trying moment especially dealing with a virus we are still researching.
I salute all scientists, medical experts who are on the field contributing to finding more about the Novel covid 19.
The United States is reported to have in excess of 100, 000 ventilators yet the death toll keeps on rising.
It does not mean the ventilators are not worth it but we must adhere to the WHO preventive measures as stated above.
So if Ghana has over 60 ventilators in the public health facilities and the government is procuring more is good, thank God we have a professor and his team who is assembling homemade ventilators in Ghana. So let the request for clarity and yearn to read and listen to the experts instead of following the media sensation especially from noncredible sources.
Also, let be mindful of the conspiracy theories, yes if we are not sure of a ''disease course or a phenomenon'', You can easily give in to conspiracy theories & myths.
.Let also know that ''cold war enemies will take advantage of the situation'' and as they battle each other sharing blames on each other and whilst they are seriously digging & investing into solutions we commit resources, data, time and knowledge discussing myth, conspiracies, and merits of their blame game.
Before you think or perceive the perception of this writer , know that i believe in biblical prophecies and will think and believe that just as after or early 90s more of the world's critical events such as the two world wars, hunger, famine, natural disasters, diseases such as HIV /AIDs, SARs, MERs, AVIAN FLU , SWINE FLU ( killed over 50 million people ) and COVID 19 and others including Malaria which kills globally all we seeing above are biblical prophecies which requires us who believe to reunite with our God to have mercy on us and to prepare us for eternity should the worst happen. We must also obey the instructions from the government through the health experts .
In addition, boost your immunity ; consume wholesome fruits & vegetables whilst we eat our local delicacies , drink more water and reduce or manage stress by ( resting enough and employing other stress coping mechanisms , resolving family tension , reunite all broken homes , watch good music and movies, exercise and dance with music, support each other and have good SEX within the acceptable confines).
As we are in a traumatic partial lockdown, expecting our health staff and other essential workers like the security, bankers, food vendors, and all other frontliners go to work and come, let us reach out to our love ones, by calling and engaging them via social media so that though we may not be meeting physically we still connect socially & spiritually.
Designs programs of education for the children at home. In Europe and the USA, for example, technology is widely beneficial at these critical times because most corporate staff are working from home using ICT as well as teachers teaching their students from home. We can explore similar avenues back home.
The Secretary-General of the United Nations has said that covid 19 is the worst critical challenge the world has ever faced after the two (2) World Wars, but together we shall overcome.
(Essien Robert: RGN/ MEDICAL PRACTITIONER; Senior Physician Assistant Medical