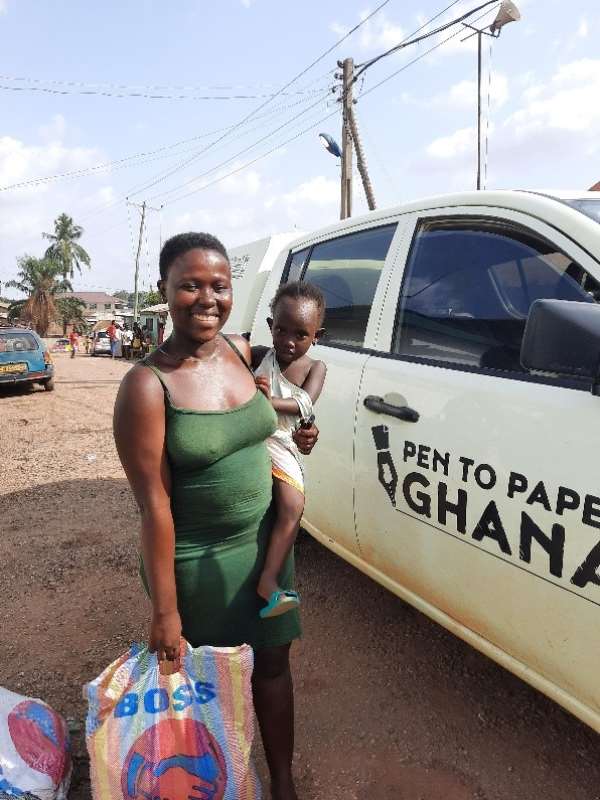 As the lockdown continues in Ghana, many organisations and celebrities have shown their support through giving to those in need. As part of the president's initiative to supply basic necessities to those that are struggling during this pandemic, Pen to Paper Ghana, a Non-Governmental Organisation with their main focus being on improving literacy rates in Ghana, has extended their generosity to some of their old and new students and their families, who are finding it difficult in this period of lockdown.
Last Saturday was their first distribution of providing food relief bags to 65 students and their families. The bags consisted of essential items, such as rice, gari, tomato paste, sugar, sardines, oil and soaps. All items were bought from local market sellers so as to also support them with an income. Their aim this week is to provide another 50 food relief bags.
With their intervention of supporting those most as risk, they are urging everyone to look out for those in need in their local communities.
Co-founder of Pen to Paper Ghana, Richard Manu says, "We are aware of our students who struggle financially since we have parent meetings and visit our pupils at home to understand the living conditions and lifestyle. As an organisation, we couldn't just sit at home with the knowledge that some of our pupils would be finding it difficult to get their next meal; therefore we started a food relief fund to help provide essential food items to help ease them whilst we are still on lockdown."
As well as food being distributed to the pupils, Pen to Paper Ghana have donated three veronica buckets to the communities to be placed in busy areas to allow the community to wash their hands regularly and help prevent the spread of the virus.
Richard ends with, "We cannot do all or even do much, but if we all do something, we are heading towards accomplishing a bigger goal - eradicating the virus, with the least impact on the communities.
Remember to abide by the measures giving by health organisations and the leaders of the nation. They are there to help us all so let's help each other. We will continue to support families in need, this is not our last."