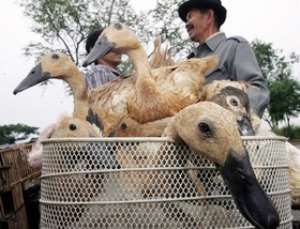 The World Health Organization (WHO) said on Tuesday that tests had shown no evidence of a significant mutation in the bird flu strain that has killed at least six people in North Sumatra.
The death of the group, one of the largest clusters to occur since the disease re-emerged in 2003, had triggered fears that it could be evolving to become more easily transmissible between people.
"Sequencing ... found no evidence of genetic reassortment ... and no evidence of significant mutations," the agency said in a statement.
Authorities had yet to identify the source of the infection and the WHO said human-to-human transmission could not be ruled out.
The agency believes some human-to-human transmission has occurred in other countries in the past, but without any indication of a mutation in the virus to make it easier to catch -- or more efficient in medical parlance.
"To date, the investigation has found no evidence of spread within the general community and no evidence that efficient human-to-human transmission has occurred," it said.
But the WHO said it was concerned at the situation in the Indonesian village of Kubu Sembelang, where the outbreak took place, and together with the Indonesia health ministry it was stepping up the search for possible additional cases.
Seven members of an extended family are known to have caught the disease and six have died. But there is probably also an eighth case, because one woman died before tests could be carried out.
H5N1 has killed at least 124 people since late 2003, when it re-emerged and spread to many parts of Asia. It picked up speed this year, moving into parts of Africa, the Middle East and Europe. In the past five months alone, more than 30 countries have reported outbreaks in poultry or wild birds.