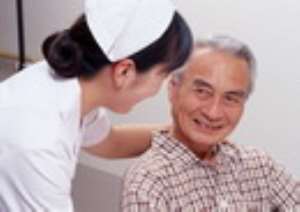 A new study, carried out in Seattle, USA, has found that elderly people who enjoy a good level of physical fitness and performance are much less likely to develop Alzheimer's Disease or other declines in mental ability. The researchers said that testing how an elderly person walks, his/her strength of grip, and his/her level of balance when standing still can be a simple way of predicting Alzheimer's risk.
Study leader, Dr. Eric Larson, monitored 2,288 people over 65 every two years. The results of the six year's of assessments can be read in the Archives of Internal Medicine. The published study dates from 1994 to 2000.
By the end of this six year period 319 people had dementia, of which 221 had Alzheimer's disease.
Dr. Larson said that he and the researchers had expected just to detect gradual, slight signs of cognitive decline. They had not expected to discover that physical changes often preceded declines in thinking.
They noticed that the first signs of impending dementia seemed to be difficulties with balance and simple walking. They also found that a weaker hand grip was a later indication of impending dementia.
Previous reports have indicated that those who do regular exercise in old age have a lower probability of developing dementia/Alzheimer's.
The researchers in this study suggest that elderly people may put off the arrival of dementia or Alzheimer's disease by taking regular exercise.
The study suggests that there is a close link between the mind and the body in old age, said Dr. Larson. He suggests that physical and mental performance go hand in hand and that what one can do to improve one will also help the other.