Amnesty critical of Israel rights record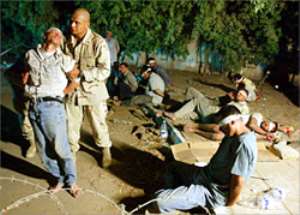 An international human rights group has criticised Israel for allowing its security forces and settlers to perpetrate abuses against Palestinians with no fear of being brought to justice.
In its annual report on the state of the world's human rights, Amnesty International scrutinised 150 countries, highlighting their failings in 2005 and making recommendations for improvements this year.
The London-based group criticised the Israeli authorities for not bringing prosecutions against its citizens.
It described Israel as turning a blind eye to abuses against the Palestinians in contrast to the pursuit of Palestinians through trials which often failed to meet international standards.

"Israeli soldiers, police and settlers who committed unlawful killings, ill-treatment and other attacks against Palestinians and their property commonly did so with impunity," Amensty said.
"Investigations were rare, as were prosecutions of the perpetrators, which in most cases did not lead to convictions."

Palestinians living in the occupied West Bank frequently say the authorities ignore attacks by settlers, either physical assaults or destruction of their farmland.

The reluctance to pursue the settlers or soldiers through the civil courts was not replicated when it came to the Palestinians, who are often tried before military courts sitting without a jury, the report said.
Other countries
Israel was not alone in returning a poor human rights record. The United States, Britain and other European countries came under fire for violations such as advocating torture, imprisoning thousands of people without charge and eroding the rule of law in the fight against alleged terrorism.
Amnesty also singled out China, Russia, Sudan and Colombia in its annual report on the state of the world's human rights.

Irene Khan, Amnesty's secretary general, accused world governments of "sacrificing principles in the name of the 'war on terror'."
Optimism
Amnesty was optimistic about reforms at the United Nations, noting that member states agreed to double the budget of the Office of the UN High Commissioner for Human Rights and to work harder to protect human rights.

At the same time, disappointment at failed promises by governments to follow up pledges to support human rights with action continued to threaten progress, Amnesty said, accusing leaders of ignoring suffering in certain countries in return for economic or political gains.

The Group of Eight (G8) leading industrial countries pledged in 2005 to help to eradicate poverty in Africa, while at the same time continuing to be major arms suppliers to African governments, according to Amnesty.
In comments to mark the launch of Amnesty International Report 2006, Khan acknowledged the challenges ahead, but said: "The events of 2005 show that the political and moral authority of governments will be judged more and more by their stand on human rights at home and abroad."