Greek and Turkish fighter jets collide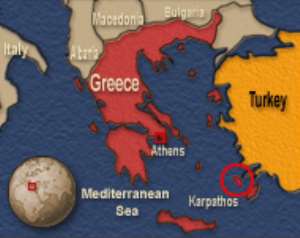 A Greek fighter jet and a Turkish warplane have collided and crashed near the island of Karpathos in the Aegean Sea.
The Greek defence ministry confirmed on Tuesday that a search and rescue operation had been launched near the island in the southeast Aegean.
Turkish broadcaster NTV reported that a Turkish pilot was rescued. NTV said the pilot, who used his ejector seat, was rescued by a Turkish commercial vessel about 160km off the Turkish coast.
Greek and Turkish fighter planes frequently intercept each other over the Aegean, mostly in areas of disputed airspace.
Greece says it daily scrambles fighters to intercept Turkish aircraft it says invade the airspace of its islands close to Turkey. Turkey denies the flights are a violation of Greek territory, saying it flies only in international airspace.
After the collision, General Hilmi Ozkok, Turkey's military chief, was reportedly holding talks with his Greek counterpart.
Vecdi Gonul, the Turkish defence minister, said: "We are also waiting for exact information. At the moment, our chief of general staff is talking to the Greek chief of general staff."
Greece says its national airspace extends to 16km, but Turkey recognises only 10km - the same distance as territorial waters.
Long-standing disputes over airspace and territorial rights in the Aegean have nearly led to three wars between the two Nato allies since 1974.
Italian jets
On Monday, two Italian F-16 jet fighters collided over the Mediterranean sea during a training exercise.
The two pilots ejected themselves and were unharmed, officials said.
The collision occurred 16km off the coast of Sardinia, said Amedeo Magnani, a spokesman with the Italian Air Force said. The pilots, who parachuted themselves into the sea, were immediately rescued, he said.