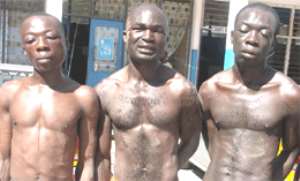 Three men who robbed passengers of ¢23.6 million at gunpoint in the early hours of last Thursday at Ekumfi Swedru on the Accra - Mankessim highway have been arrested by the Mankessim police.
They are Kwadwo Gyebi, 36, Kwesi Boakye, 27, and Alhassan Adamu, 32.
Narrating their ordeal to the press, the driver of the Nissan Urvan bus, with registration number GR 7049 X, Stephen Essuman, 34, said the three armed men joined the vehicle at Mankessim where he loaded.
Mr Essuman said two of the robbers sat at the front seat with the other in the seat behind him.
He said when they got to Ekumfi Swedru, the one behind him who had then put on a hood and wielding a gun ordered him to stop.
He said when he refused to stop the robber then held his shirt but he managed to stop and free himself, got down and started running away.
The driver said one of them fired at him but the bullet scrapped his back.
He said the robbers managed to collect various sums of monies from the passengers, mostly traders, after severe beatings and other forms of molestation, including stripping them naked to the pants.
One of the passengers who proved stubborn is on admission at the Saltpond Hospital after being subjected to severe beatings by the robbers.
Mr Essuman said he managed to report the incident to the police at Mankessim who traced the vehicle at Akrofu and with the help of the people in the nearby villages arrested the robbers.
Two imported pistols, one Errickson mobile phone and a bottle containing a substances believed to be Madras were retrieved from the robbers.
The Central Regional Police Commander, Ms Rose Bio Atinga commended the people of Abura Asafona, Kwaman and Obokor for assisting the police in arresting the robbers.
She asked the people to continue to assist the police in combating crime.