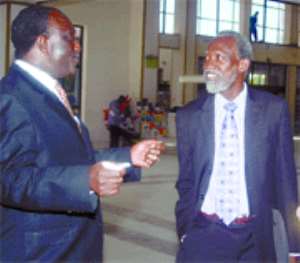 The Minister of Trade, Industry, Private Sector Development and PSI, Mr Alan Kyerematen, has announced that the government has entered the growth phase of its development agenda following five years of progress and economic stability.
He explained that this phase would lead to the establishment of a multi-purpose Industrial and Science Park, which will be a collaboration with the private sector, for improving efficiency, productivity and competitiveness of local industries through skills development, as well as access to foreign markets.
He described the project as an adaptation of the Free Zone concept under which entrepreneurs would enjoy many facilities, including soft loans, to start new viable industries.
The minister made the announcement at the launch of the Silver Jubilee celebration of the Chartered Institute of Marketing Ghana (CIMG) in Accra and called on the private sector to take advantage of the opportunities and challenges under the growth phase and increase productivity.
Mr Kyerematen suggested that the private sector could work closely with the government to focus on promoting the spirit of entrepreneurship at all levels of the society.
The minister again said the government would intensify efforts in the private sector to attract and mobilise foreign investment from the international community through the building of synergies between local entrepreneurs and foreign investors.
He said the government, under the growth phase, would collaborate with the private sector to improve efficiency, productivity and competitiveness of local industries through skills development, as well as access to foreign markets.
Mr Kyerematen said already, the ministry had introduced a new $80-million micro, small and medium-scale enterprises, which will provide access to medium and long-term credit.
He said the government was currently reviewing the Company's Code of 1963 (Act 179) in order to bring companies in line with international practices and create a more enabling environment for private sector growth and development.
The minister said the Ghana Investment Promotion Centre Act 478 of 1994 would also be reviewed as part of the government effort at enhancing Ghana's image as an investment destination of choice.
Professor Stephen Adei, President of CIMG, said the aim of the institute was to promote made-in-Ghana goods instead of foreign ones.
He, however, conceded to the fact that the unit cost of production of made-in-Ghana goods was still high and urged the private sector to increase their competitive edge.
Prof Adei said the topics for the two-day conference of the institute would focus on challenges of global competitiveness for the Ghanaian manufacturer and industrialist, as well as branding Ghana in a globalised world.