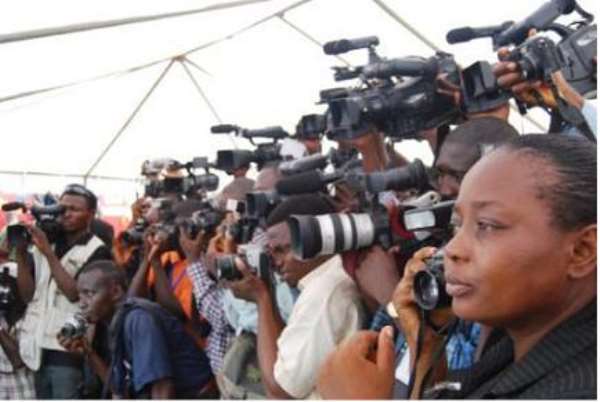 A 'Pilolo' ad comment was a precursor to an unanticipated fiery exchange. What's Pilolo?
I guess it's something like the ventriloquist's monocled wooden dummy. I could be wrong.But it seemed offensive enough to knock heads together. Better translation, it set a journalist on one side against her four critics on the other.
The vicious obloquy had surprised even those in Siberia (the party in opposition) who knew of the fraternity between the journalist and the politicians.
Political romance turned sour?
And it seemed the political romance between them had turned sour and possibly no amount of persuasion could change the dynamics hereafter. The heat was on! I felt I could be 'crucified' just like the way they did to her too, perhaps unconscionably dismembered without recognition, if I criticise one of them or their kinsmen.
It was Wednesday 15, April 2020. Tempers had soared. Innuendoes had crescendoed. And words were flitting like silly pigeons.
Journalist Afia Pokuaa aka Vim Lady-- a former editor for Adom TV a multimedia group now with UTV had locked horns with four personalities on one of the social media platforms.
It appeared the 'brawl bus' was heading down to a ditch from the driveway's steep gradient.
The journalist, who's known for her uncompromising stance on socio-political issues had criticised a recently launched new App designed to help trace people who have come into contact with COVID-19- positive individuals.
Who launched it?
The innovative App touted as most powerful tool was launched by no mean an individual but vice President Dr. Bawumia.
"This data is the most powerful weapon in the fight against COVID-19. You cannot fight what you cannot see," he said.
It's understood that during her TV programme analysis on the subject, Afia lampooned the App. Not only that but she also likened it to an ad called 'Pilolo'.
"The App is safe to download and that none of the user's personal data is being collected," Ursula Owusu-Ekuful, Communications Minister gave the assurance at the launch.
And guess what, the journalist had stirred the hornest's nest or ruffled feathers: Who's she and what knowledge does she have to weigh into the subject?
"Those two, Afia and Yaa Konama must be brought to book! They talk down on people like they're the best things that happened to the world," wrote Dr. Mokowa Blay Adu-Gyamfi, Director General of Ghana Aids Commission & fmr. Ambassador to Sierra Leone.
"Imagine the stereotype. Go and listen to honourables own interviews from 2014-2016 on the same platform with these presenters. How can you be shallow to think that just because a person speaks calmly means they're polite," Afia Pokuaa shot back.
Another critic jabbed Afia:
"And Dr Mokowa Adu-Gyamfi becomes shallow in your estimation? It will do you good to drop that ego sis."
"Afia Pokua just listens to yourself and the 'Pilolo' comments you made which show the depth of your knowledge about the subject you were denigrating," she was called out.
That comment received a sarcastic response from Afia. "Don't insert yourself into a matter you don't know about. The graveyard doesn't require a PhD."
At that point,, I could gauge the tempo of the exchanges. I could tell where things were heading to.
And it surely required a quick intervention as a delayed intervention could result in something nastier.or uglier if that hadn't happened already! Nonetheless, I called for a ceasefire, albeit behind closed doors.
Does Dr. Bawumia know it all?
Obviously, no human being knows it all.
That said, there are genius among us and the vice president I think is one. I've personally written several articles about the learned Veep. His knack for excellence is unquestionably legit. But as I pointed out a while ago no human being knows it all. And so I think the vice president isn't a paragon of IT. I'm sure he would admit to that.
So why should Afia Pokuaa be chastised?
Can't a journalist express his or her dissenting view on a subject? Must a journalist support every issue even if that subject affects the interests of the public?
I could see myself at the receiving end of what transpired between Afia and her critics.Sometime in 2004, I recall: Nana Ohene Ntow---a former presidential spokesman for President Kuffour called me. It was a perfect call. In fact, it turned out great.
Did that tickle you?
"Are you Offin-Amaniampong," he enquired.
"Are you.the editor of B&FT.?" Yes, i am.
He went on: "If there's any newspaper in Ghana that I would like to align myself with it's your paper."
That was flattering isn't it?
So, I asked him why my paper, why B&FT?
His response: "I've been reading your editorials and writeups. And as constructive as they might seem, I still thought you were an NDC guy. But the Oldman [Pres. Kuffour] told me you're for us and not against us."
He added, the President said we needed individuals like you to guide us, else we wouldn't know, if the path is crooked or straight.
what are my roles or yours as a journalist?
To be biased towards one party and treat the other as an adversary? Or act like the leader of a symphony orchestra group? Or be a booth-licker?
Indeed my roles as journalist are to inform, educate, entertain, research and guide. Aside, I should be as objective as possible about what's happening in my community, country and the world as a whole.
Beyond that, I've ethical responsibility and obligation to serve the public as well as try to avoid conflicts of interest real or perceived. In my view, there's no short cut to this ethical responsibility as it beehives behoves on us to be fair and objective in our reportage.
They say a child's regression could be seen in his thumbsucking...much as a journalist's or politician's fall could be seen in his bloated ego.
Sometimes they hate us. Sometimes they love us.
There are times we're their heroes. And there are times we're their foes. Infact, we could pass as bedfellows.
It seems like a joke but that's the reality.
So what do you think influences this love and hate thing? You may call it a theatrical episode that evolves time after time, depending on who's at the forefront.