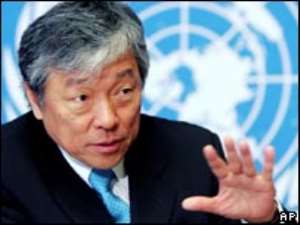 China expressed its deep condolence over the death of Lee Jong-Wook, director-general of the World Health Organization (WHO), Chinese Foreign Ministry spokesman Liu Jianchao said here on Monday.
When responding to press, Liu said the Chinese government is shocked to hear about that Lee died of illness on Monday.
"We feel deeply grieved for losing an outstanding leader of WHO and an intimate friend of China," said Liu.
"The Chinese government and people have expressed the deepest condolence to the WHO, the government of Republic of Korea and the relatives and friends of Lee over Lee's death," Liu said.
He noted that Lee had served WHO for a long time and during his term of WHO director-general, he led the organization in properly handling new challenges of SARS and bird flu in the international health field.
Liu said Lee had played a remarkable role in promoting international health exchanges and cooperation and made great contributions to promoting China's relations with WHO and China's health cause.
"The Chinese government highly appreciates Lee's work and will continue to cooperate closely with the WHO to accomplish the unfulfilled task of Lee," said Liu. Enditem