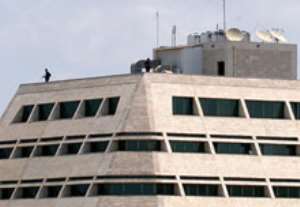 One civilian has been killed and 11 people wounded in a gun battle between rival Palestinian factions in the Gaza Strip. Tensions have been rising since the Islamic militant group Hamas took control of the Palestinian Authority eight weeks ago.
Hamas militiamen and Palestinian police from the rival Fatah faction traded heavy fire nearly the parliament building in Gaza City, turning the downtown area into a war zone. Each side blamed the other for starting the battle.
Police say it began when gunmen from a new Hamas militia fired at a car carrying members of the Preventive Security Service, a branch loyal to moderate Palestinian President Mahmoud Abbas, who is also the leader of Fatah. Hamas said its men came under fire during a patrol, took cover in an abandoned building and fired back. The Hamas gunmen threw grenades and fired a rocket-propelled grenade at police.
The driver of the Jordanian ambassador in Gaza was killed when his car was hit in the crossfire.
The battle was the most intense yet in a deepening power struggle over control of the security forces. Tensions soared last week after Hamas deployed a unit of 3,000 militants to restore law and order, ignoring a veto by Abbas. He responded by deploying his own police in a show of force. Then, over the weekend, Fatah blamed Hamas for two assassination attempts against Gaza security chiefs.
"The government expressed their sorrow for what happened, and we call [on] our people to keep the situation calm and quiet and also to keep self-control and restraint," appealed Hamas spokesman Ghazi Hamad.
But with two rival security forces patrolling the streets, there are growing fears of a Palestinian civil war.