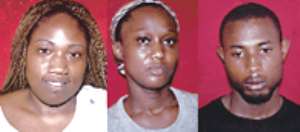 Two Surinamese women who inserted two large lumps of cocaine into their private parts with the hope of outwitting security personnel at the Kotoka International Airport Ghana have been arrested.
Bianca Audrey Grootfam, 35 and mother of five, besides inserting the 300-gramme compact cocaine into her private part, also swallowed 58 pellets of the drug, while Maya Astrid, 34 and mother of four, also swallowed four pellets and inserted 82 pellets in her anus, besides the 150 grammes inserted into her private part.
The third suspect, Osamwonyi Obazee Ode, 23, a Nigerian, swallowed 58 pellets of cocaine and was also arrested at the airport while going through departure formalities to go to Spain.
Sources close to the Narcotics Control Board told the Daily Graphic on Saturday that both Bianca and Maya took three days to expel the cocaine.
It said Bianca was rushed to the hospital to receive medical attention after expelling the 300 grammes from her private part as a result of excessive bleeding.
The cocaine were parcelled in condoms before being inserted into their private parts. The source said Maya arrived in the country on April 30, 2006 and lodged in a hotel where her contact person brought the drugs to her.
It said Maya claimed her contact person, whom she described as a Nigerian, came down to Ghana earlier and promised her 1,500 Euros on her successful delivery of the drugs to Holland, where she was based.
According to the source, the third suspect, Ode, who was domiciled in Spain, also came to Ghana to take the drugs for a similar fee. They are all in police custody, pending further investigations.