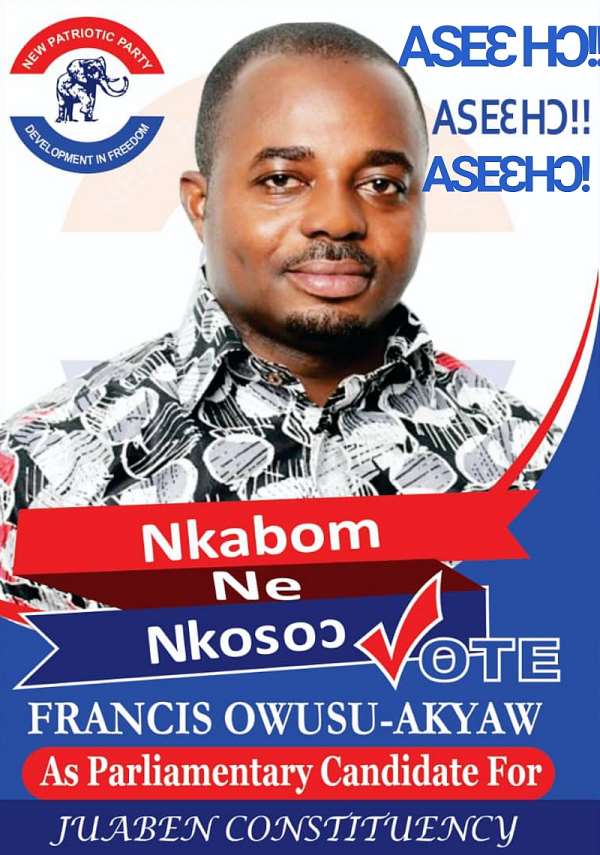 The Juaben Constituency Deserves a Positive Change. That Change which would turn the political fortunes and development of our beloved Constituency drastically.
Francis Owusu-Akyaw holds the Keys to that Positive Change which represents the development and Transformation of Juaben Constituency.
Already, we have seen a lot of positive work from the Humble and Accessible Francis Owusu-Akyaw within the Constituency, he hasn't relented on his efforts to help develop our Constituency from time immemorial.
Concentrating on my own Achiase, when the MP turn deaf ears on providing just 200 bowls to help our children to enjoy School feeding on numerous occasions, when she was contacted, with just a call to the kind-hearted Francis Owusu-Akyaw, he procured 400 bowls to enable our kids to enjoy school feeding food.
Again, Francis Owusu-Akyaw knowing very well the trauma Arm robbers making Bomfa to Achiase citizenry to go has built a Police Station to avert all these dangers and maltreatment we've been going through at the hands of arm robbers.
To conclude on part One(1) of the reasons why delegates have no choice but to vote for Nkabom Ne Nkosoɔ is that, Mr. Owusu-Akyaw again donated roofing sheets to enable us to roof our Community SHS building.
Our Cherished delegates, kindly don't make a wrong decision again that we would live to regret. Vote Number 3!!! Vote Aseɛ Hɔ!!! For Nkabom Ne Nkosoɔ in Juaben Constituency. Vote Francis Owusu-Akyaw the Grassroots Choice.