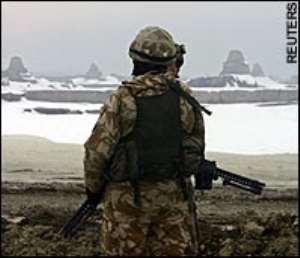 US-led coalition aircraft killed about 50 suspected Taliban militants in an air strike on a rebel stronghold in southern Afghanistan, the coalition said today.
Local residents claimed several civilians had also been killed and wounded.
The attack late yesterday and early today was on the village of Azizi in Kandahar province, coalition spokesman Major Scott Lundy said.
"It was against a known Taliban stronghold and we believe it resulted in about 50 Taliban killed," he said.
The new deaths brought the toll of militants, Afghan forces and coalition soldiers killed to more than 240 since Wednesday, when a storm of violence broke out in the south.
The fighting is among the deadliest since the ouster of the Taliban in 2001 and comes despite the presence of more than 30,000 foreign troops, including 23,000 from the United States.
Lundy said the coalition was investigating whether some civilians may also have been hit by the bombing.
More than a dozen villagers, many of them wounded, fled the area to the main southern city of Kandahar early today, claiming scores of civilians had been hit.
At the city's Mirwaise Hospital, one man, with blood smeared over his clothes and turban, said insurgents had been hiding in an Islamic religious school, or madrassa, in the village after fierce fighting in recent days.
"Helicopters bombed the madrassa and some of the Taliban ran from there and into people's homes. Then those homes were bombed," said Haji Ikhlaf, 40.
"I saw 35 to 40 dead Taliban and around 50 dead or wounded civilians."
Another survivor from the village, Zurmina Bibi, who was cradling her wounded 8-month-old baby, said about 10 people were killed in her home, including three or four children.
"There were dead people everywhere," she said, crying.
A doctor, Haji Mohammed Khan, said he had treated 10 people from the village. Moments later, a pickup vehicle pulled up at the hospital with five men lying wounded in the back.
The Taliban resurgence has halted postwar reconstruction work in many areas and raised fears for this country's future.
It was not possible for reporters to reach Azizi village because police and foreign troops had blocked off the area, which is about 50 kilometres southwest of Kandahar.
The village is also known by the name Hajiyan.
It is made up of about 30-35 large mud-brick compounds, each housing an extended family with up to 50 members.
The village has a mosque and one madrassa, where boys study. It has no electricity and relies on wells for water.