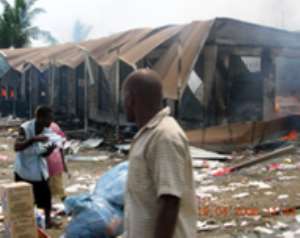 The resignation of Snyder Rini, the Solomon Islands prime minister, over charges of bribery and corrupt ties to China and Taiwan served as a reminder of how one unfinished chapter of the Cold War still occasionally turns hot.
Reminiscent of an era when the US and the Soviet Union wooed, bullied and bribed the world's nations into supporting them, the competition between China and Taiwan for diplomatic recognition is also having spill over consequences.
Solomon islanders recently rampaged through the capital Honiara, leaving dozens injured and many Chinese shops and businesses destroyed, after local media published reports that China and Taiwan had been "buying" officials to influence the outcome of elections.
The recent arrival of hundreds of migrants from both Taiwan and Mainland China - many of whom have successful businesses - added to local frustrations.
Australian peacekeepers were despatched to the capital and enforced a curfew to stop the looting and burning of many sections of the city.
Criticising what has become known as "chequebook" or "dollar diplomacy", one analyst told Aljazeera.net how bribes and the lure of aid from China and Taiwan in return for diplomatic recognition were undermining the political processes and fostering corruption among Pacific island nations.
Flip-flop
"Pacific islands countries tend to flip-flop between China and Taiwan. It is a very destructive competition. Except for Papau New Guinea these countries are small, weak, and have very little of value in natural resources and the governments are often unstable and open to chequebook diplomacy," says Susan Windybank, a Pacific expert at the Australian Centre for Independent Studies.
One of only 25 countries with diplomatic relations with Taiwan, the Solomon Islands currently recognises Taipei as a sovereign, separate nation from China.
But in the wake of Rini's ouster, the opposition have said they would reverse course and bring an end to their recognition of Taiwan.
Divided in 1949 when the Kuomintang Chinese Nationalist Party fled to the island after their defeat by the Communists, successive Taiwanese governments have relied on the support of the US military for defence but have avoided declaring outright independence from China.
Such a move Beijing says would spark war.
Even so, Taiwan has maintained an active foreign policy focusing mainly on attracting the support of small countries reliant upon foreign aid and investment.
The Pacific Islands are a case in point.
While they comprise about 1% of the world's population, as a bloc they control 6% of the votes in the UN General Assembly.
Six of the region's island members recognise Taiwan, enough to raise a yearly motion to reinstate Taiwan into the UN and other world bodies such as the World Health Organisation and represent Taiwan's interests in absentia.
Constant reminder
Though motions supporting Taiwan's membership into such organisations always fail the newsprint, they generate is a constant reminder of Taiwan's ambiguous status.
"The fact that Taiwan can conduct an independent foreign policy is an irritant to Beijing who cares about it a lot more than they should," says Russell Leigh Moses, a professor of international studies at Beijing's People University.
While China has denied charges of bribing of Pacific Island leaders, it has nevertheless been particularly active in the region.
Chinese tour
In early April visiting the region as part of tour of Australia and New Zealand, Wen Jiabao, the Chinese premier, stopped in Fiji where he pledged $375 million in preferential loans and free anti-malarial drugs to island countries supporting China.
He also signed a $650 million deal with Papua New Guinea to help develop local nickel and cobalt mining operations as part of China's efforts to secure natural resources for its growing economy.
Hosting the first China-Pacific Island Countries Economic and Development Forum, Wen promised that China "will continue to prove itself a sincere and trustworthy and reliable friend and partner of the Pacific islands countries forever".
Countries recognising Taiwan were not invited.
Reflecting an adjustment in the regional balance of power, not just between China and Taiwan, but also between China and Australia, the moves are proving especially worrying to Taipei as leaders there struggle to match Beijing's promises of aid.
Nor does Taiwan's economy offer the same business opportunities and outlets for raw materials that China's does.
"With China's extension of economic and political power into South and Central America (where Taiwan has several diplomatic allies), Taiwan's focus is on the Pacific Island region," says Philip Yang, a professor of political science at the National Taiwan University.
Aid buys influence
In one example cited in a US Congressional Research Service report, the Caribbean island of Dominica severed ties to Taipei in 2004 after Beijing offered it $122 million in assistance over six years. Taiwan could only offer a comparatively paltry $9 million.
In 2003 Chinese officials had to rush to dismantle a spy satellite station on the island of Kiribati after the local government suddenly decided to switch allegiance to Taiwan.
Two years ago, the island of Vanuatu made the news after the island's government changed their diplomatic position several times in as many weeks after a dispute broke out between the island's prime minister and foreign affairs officials over who to recognise.
Telling Aljazeera.net that Taiwan will continue to court diplomatic allies, Yang says that the exact amounts spent on maintaining relations are not made public. "It is not transparent and people in Taiwan do question this funding asking why so much money is being spent and why it is not given to countries who really need it."
However, China's growing influence in world affairs may make it harder for Taiwan to conduct any kind of foreign policy on its own.
"Responsible stakeholder"
Even Taiwan's only European ally, the Vatican, is currently in talks with Beijing that may result in mutual diplomatic recognition. Although allowing the Catholic Church in Rome greater influence in the lives of China's growing number of Catholic converts, the Pope would have to sever diplomatic ties with Taiwan.
This in turn is increasing Taipei's reliance on the US, as well as Japan, who have recently been making assertive comments that some have interpreted as being close to a recognition of Taiwan, something China would be keen to avoid.
The dispute also raises the question of how China will manage its ascendancy in international affairs. Analysts say events in the Pacific may sour what had been fairly warm relations between Australia and China as well as negatively impact the Australian public's perception of both China and Taiwan.
The US government has already been calling for China to become a "responsible stakeholder" in international affairs after complaining that Chinese support for Iranian and Sudanese governments is making it difficult to resolve the respective countries nuclear and humanitarian crises.
Other Western commentators have expressed concern that China's "no strings attached" aid policy is undermining efforts to encourage good governance and environmental responsibility – often a condition of most institutional loans from Western led organisations like the World Bank.
Yet while China's stated position is one of non-interference in the domestic affairs of other countries the pressure will continue to grow on China to step in line with the Western-made rules of international diplomacy.