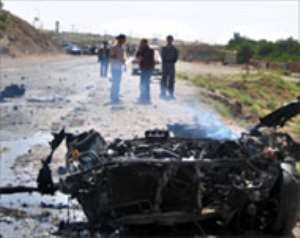 Aircraft from a US-led force in Afghanistan have attacked Taliban strongholds in the south of the country and at least 50 people have been reported killed.
Residents of the area said that up to 35 of those killed in the attack on Monday were civilians.
The bombing raid was in the Panjwai district of Kandahar province where heavy fighting erupted between Taliban and Afghan and foreign soldiers last week.
"There was a coalition air strike ... as part of a co-ordinated operation against known Taliban strongholds," said the spokesman for the multinational force, Major Scott Lundy.
"We believe up to 50 Taliban may have been killed."
Lundy said there were unconfirmed reports of civilian casualties, which were being investigated.
Violence has surged in Afghanistan since last Wednesday, most of it in the south and east. About 150 people, most of them fighters, had been killed before Monday's air raid.
The dead included four foreign soldiers - two French, an American and a Canadian.
Homes destroyed
Residents of Panjwai district, about 25km southwest of Kandahar town, said several homes were destroyed in the air strikes.
Nine wounded civilians from the district, three children, two women and four men, were taken to Kandahar main hospital.
Atta Mohammad, an elderly man who accompanied the wounded to the hospital, said: "I think up to 35 civilians have been killed and more than 40 wounded."
A wounded boy, Daad Mohammad, said all seven members of his family were killed.
"They are all dead," he told Reuters from his hospital bed.
The interior ministry confirmed that a bombardment had taken place in Panjwai but declined to comment on casualties. An investigation was in progress, an official said.
The surge in violence comes as Nato is expanding its peacekeeping force from 9,000 to 16,000, in preparation for taking over security responsibilities in the south from US-led forces.
With 23,000 US soldiers in the country, Afghanistan will soon have nearly 40,000 foreign troops, the most since 2001.
In the southern province of Helmand, to the west of Kandahar, residents said Taliban ambushed a convoy of foreign troops in the Girishk district.
Threats
There was no word on any casualties and officials in the province, where British forces are overseeing security, declined to comment.
In a separate incident, armed men kidnapped a former governor of the eastern province of Paktika, Mohammad Ali Jalali, on Sunday in neighbouring Ghazni province, southwest of Kabul.
Jalali, who was known to have received threats from the Taliban warning him to stop co-operating with the government, was believed to have been killed, the chief of police in Ghazni said.