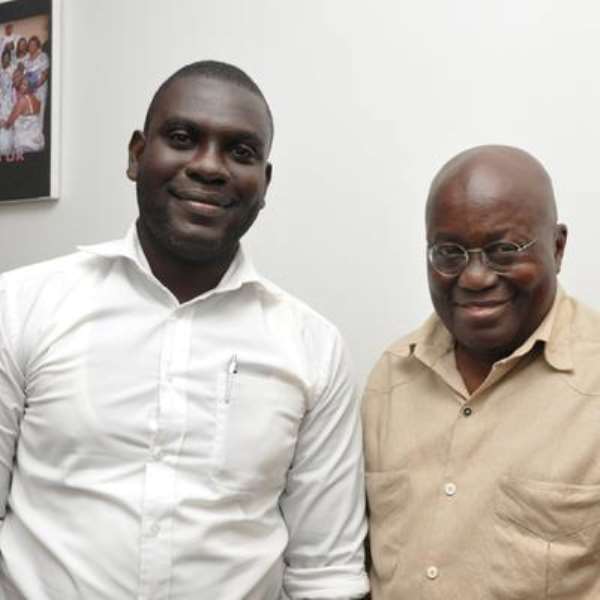 A Plus posted a video on his Facebook page that captures Nana Hesse Ogyiri as the culprit who has been giving out vital information happening at the presidency to friends and cronies so that they can be shared publicly for political gains.
According to the loudmouth, Nana Hesse Ogyiri is a sell-out guy who cannot keep to himself vital information that can harm the party when it gets into the public domain.
The feud that has generated into a national debate comes on the backdrop of a recent comment made by A Plus in relation to Papa Owusu Ankomah, Ghana's High Commissioner To the UK, who tested positive for Coronavirus and is currently receiving health care in the UK.
A Plus prayed for his speedy recovery but quizzed the former MP for Sekondi will his constituents receive the same medical care he is receiving in UK. if yes then he should be brought back to Ghana to be treated here.
Paapa Owusu Ankoma has tested positive to coronavirus and is in an "unknown" hospital in the UK. I pray that he recovers soon. As a human being, you don't wish bad for your fellow humans irrespective of your relationship with them. But as he enjoys better healthcare in UK, he should ask himself, what will happen if the people in Sekondi who voted for him to become MP for many years test positive to coronavirus. Will they get the same healthcare he is getting in UK?
If yes, then please bring him to the hospital in his constituency for treatment. He'll be fine.
Now that Facebook pays me for my posts, it is going to get worse!!! I'm going to sleep. Insult. I will wake up and go to the bank
Nana Hesse Ogyiri responded to A Plus comment indicating the country has better health facilities to take care of Coronavirus patients which A Plus has also hit back.
The musician who cannot comprehend why Nana Hesse Ogyiri want to challenge him when other powerful people have fallen after attempting to fight and silence him for their wrong deeds, released a phone call conversation he had with him to prove he has the secret of almost everyone within NPP including President Akufo-Addo if we are not afraid to assume that.
A Plus claims Nana Hessey Ogyiri called him one morning begging him so he (A Plus) does not revealed his identity to anyone for a wrong deed he will be punished for if he is recognized as the culprit of that act.
Ok in exactly 10 mins I'll release your first warning. (A conversation between you, Charles Nii Teiko Tagoe and I) you didn't know Charles was on the line. The next one, plus other which will affect everybody in your party will depend on your response. Don't say I didn't warn you!!!
NB: I'm given ten minutes so that many people will be ready to listen to you say "did you mention my name?" After that I'll release the one you were crying. Stupid man!!!