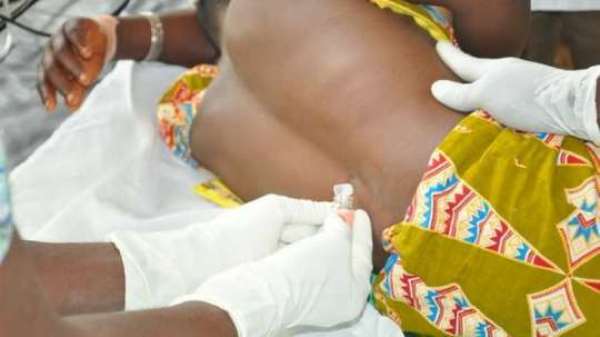 The world is at a standstill due to the COVID-19 pandemic, but there is an illness that has taken more lives in Ghana–Cerebrospinal Meningitis (CSM) than covid-19 and this beckons our attention.
The Coronavirus pandemic if not for anything has taught us how to appreciate the little things we took for granted, that is, having a social life, exchanging pleasantries – shaking hands, hugging, etc., which in our culture shows care and is a reflection of our affection.
It seems COVID-19 took the whole globe by surprise and it has shown all of us our "smoothness level" as we linger in the hope of finding a cure for this disease. I must quickly appreciate how countries, both large and small are putting in place measures to cushion their citizens, against further damage.
As of Saturday, April 12, 2020, some 1.5 million people worldwide have been infected with over 100,000 deaths. There is no vaccine or drug for it yet. It is unequivocal that the world in a long while has not seen anything this huge and the world is on lockdown and in fear!
Despite the wave of this disease blowing across the country, it may not be the most pressing healthcare challenge for some population of people. For people in the Upper West region, the Cerebrospinal Meningitis (CSM) remains a more serious health threat, as it has killed more people than what COVID-19 has claimed in Ghana.
Cerebrospinal Meningitis (CSM)
This is an inflammation of the meninges of both brain and spinal cord, specifically, an infection often an epidemic and fatal. Meningitis caused by bacteria, viruses or even fungus.
It may be airborne or transmitted through droplet infection, almost the same way COVID-19 spreads.
The disease has up to 50% fatality rate if not treated in good time.
It is characterized by symptoms such as fever, headache, neck stiffness, confusion or altered consciousness, vomiting and inability to tolerate light or loud noises.
Interventions and neglect of CSM communities
Even before, we recorded 313 cases of COVID-19 with 6 deaths and 3 recoveries, we set up a Trust Fund and President Akufo-Addo had instructed the Finance Minister, Ken Ofori-Atta to make available 100 million dollars to fight its spread among other interventions.
Lest, I forget, Parliament approved a GHS1.2 billion allocation for use by the Finance Minister to help government boost the fight against the Coronavirus pandemic.
So I ask, what have we done or what are we doing about CSM that has killed 37 persons out of 247 infections so far this year?
Do we mean to say that we have not heard or is it because the people who are perishing are not residents in Accra?
From 2010 to 2015, CSM took 405 precious lives with 4,561 infections. Those lives were lost and who knows who they could have become?
CSM is has been with us for years and it is known that every year in the first few months there is an outbreak. One would have expected that by now, health authorities would have had a handle on this situation as its prevention primarily is by observing personal hygiene and basic public health interventions. Fortunately, its treatment procedures are known.
It is therefore baffling to imagine that CSM keeps killing people in Ghana.
Available data provides that 161 cases were recorded in 2016
Fast forward, here we are in 2020, that same disease has killed 38 persons on the quiet with 247 infections and it seems, those who can help arrest this situation, have their focus elsewhere.
The Upper West Regional Director of Health Services, Dr. Osei Kuffuor Afreh, had this to say about developments in the region concerning CSM, "Currently, our region is saddled with two main health problems. The first one is COVID-19 and the second one is the Meningitis. So far we have over 214 recorded cases of Meningitis with about 80 percent of the cases coming from four facilities mainly Nadowli, Jirapa, Nandon, and the Wa Municipality.
"We have also recorded about 33 deaths of Meningitis [at the time] and the deaths are not confined to one particular district or age group. All age groups are being affected and it is one of the serious things. Mostly, every year around this time, between November to March, April, we tend to have cases of Meningitis because the risk factors for Meningitis are very high," Dr. Osei Kuffuor Afreh added.
Poor government response
I have no shred of doubt that if the lives CSM is claiming in the Upper West region were to be in the Greater Accra, given that there is an established treatment procedure and time of year cases appear, it would have been given attention, and resources might have been deployed to mitigate the menace but sadly, that's not the reality.
I suggest the government should as a matter of urgency deploy resources to save the lives of our brothers and sisters in the Upper West region, contain the situation and treat those infected and educate the rest of the people on the preventives.
Precautionary and pre-emptive measures must be taken to ensure that same devastation is not visited on the lives of others in nearby regions.
Some forms of Meningitis are preventable by immunization with the meningococcal, mumps, pneumococcal, and Hib vaccines.
Promptly giving antibiotics and sometimes antiviral drugs, Corticosteroids can also be used to prevent complications from excessive inflammation.
Conclusion
It is embarrassing that with all these details known about the disease, we have not paid enough attention to resolving the leading killer in the region.
To the world, Coronavirus is deadly but to residents of the Upper West Region, CSM kills faster. This is the sad reality I don't want to believe.
Let u rise to the occasion for we have been disappointing in our handling of the CSM crisis up north!
—
The writer, Ernest Arhinful, works with Citi FM/TV and citinewsroom.com