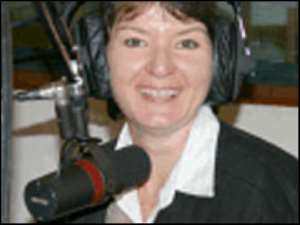 In pictures

I have mastered my way around my bedroom in complete darkness, as I get dressed.
Then I prepare a warm cocktail of carrot juice mixed with assorted vegetables.
After brushing my teeth, I dress and prepare a hot pot for my husband.
I sit in darkness and silence as I reflect and pray for the day ahead and the family I am leaving behind.
Pounding head
At 0530 I arrive on the outskirts of Kibera where I pick my workers and head to Thika to purchase pineapples for sale in Nairobi.
We deal with irate shop owners, traffic jams in the city centre and yelling matatu bus touts
Pat Nzula
Distribution begins by 1200 to supermarkets, open markets, small kiosks and road side vendors.
This is the most trying part of the day as we deal with irate shop owners, traffic jams in the city centre and yelling matatu bus touts.
The day ends at 1830. Tired, hungry and with a pounding headache I head home to my children who run to me: "Mama, why didn't you pick us from school?"
I take a hot shower, have my dinner while holding my two sons on my laps and help my 11-year-old daughter with her homework while she narrates her day.
When the children sleep at 2100 I lay my aching body in bed, quickly rush through the day's newspaper before I drift to sleep with the lights on, TV and radio on, only to be woken up by the cries of my babies at midnight with five more hours to day break.
Yatta Roslyn Young, school principal, Liberia
Wow! I wish the day had more than 24 hours because I need more hours to go through my day as mother, principal, teacher and a United Methodist deacon.
Liberia's President Ellen Johnson-Sirleaf went to the College of West Africa
My alarm clock wakes me up at 0500. I lay awhile thinking whether I should do a few minutes on my exercise bike or ab-roller - but who needs a workout when the kids keep me running up and down stairs all day long?
I step out of bed turn on the radio and put on my 'mother's hat', the first for the day.
Then my day starts in earnest. I start bellowing orders to wake up my household made up of four teenage boys, one grandson, and my husband.
I have to bellow because they are always plugged into something: walkmans, CD players, Ipods or some other listening device.
After a lot of yelling - that is the only way things get done fast - we sit down for prayers and I pass out orders for the day.
We troop out of the house at 0645 into our small Nissan Sunny and head for town; my husband for his office, the kids for school, and I for my office.
I am the president of the oldest school in Liberia, the College of West Africa.
Bellowing
We start the school day with devotion. Classes start at 0815. Throughout the day, I bellow orders when necessary - this time, in order to be heard above the din the students make - sign documents, see visitors, parents, browse the internet and find time to take a bite!
I lose myself in the make-believe world of Nollywood: I laugh, shout, cry, and pray along with all those Nigerian superstars
Rev Yatta Roslyn Young
This goes on till 1430. I then meet with my executive staff to assess our day's work and plan for the next.
Computer classes run till 1630. I find time in all this chaos to prepare sermons as guest preacher or programmes for the children's Sunday school at my church.
I head for home at 1730 and take off my 'executive hat'.
As mother, I act as judge, nurse, friend and chef till 1930 when I rev up my generator.
For the next hour, I put my real life on hold and lose myself in the make-believe world of Nollywood: I laugh, shout, cry, and pray along with all those Nigerian superstars!
At about 2200, the generator shuts down and we say our prayers and head for bed and sleep.
I take my night bath and relax in my comfortable bed, listen to BBC till midnight or whenever I fall asleep exhausted but fulfilled: fulfilled because I am helping to improve on Liberia's tomorrow.
Helga van Niekerk, radio presenter, South Africa
I have a wonderful life and am happy to let you take a peak into it.
My alarm clock goes off at 0445. I waste no time hopping out of bed and heading for the bathroom.

I wash and dress and by just after 0500, I quietly leave my home and drive through the silent streets of the sleepy seaside town of Fish Hoek.
I work for Radio CCFm 107.5, a community radio station broadcasting to Cape Town.
I am the morning drive show presenter and am on air from 0600 to 0900, Monday to Fridays.
I get to work around 0515, check my emails, do some final preparation for the show and read through various news websites to familiarise myself with the latest news.
Then I go on air: It is the most fun, friendly, busiest and most energised three hours of my day.
Swap hats
At 1100, after a couple of hours prep for show the next day, I head off to the gym to beat my body into shape.
After that I swap hats to that of housewife and mum: I shop, cook, wash, fetch and carry.
By 1700 my family are home. My 18-year-old daughter is at the University of Cape Town; my 15-year-old son is at high school.
My husband and I have been happily married for 20 years and we all sit down together for dinner.
My 81-year-old mother-in-law lives in a cottage in our garden. Sometimes she joins us.
In the evening, I sit at my laptop and prepare the programme notes for the next day's show.
Perhaps a bit of TV is thrown in. By 2230, my engine is slowing down; bed is appealing; sleep calls; the day is done!