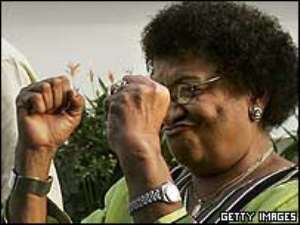 Wow! I wish the day had more than 24 hours because I need more hours to go through my day as mother, principal, teacher and a United Methodist deacon.
My alarm clock wakes me up at 0500. I lay awhile thinking whether I should do a few minutes on my exercise bike or ab-roller - but who needs a workout when the kids keep me running up and down stairs all day long?
I step out of bed turn on the radio and put on my 'mother's hat', the first for the day.
Then my day starts in earnest. I start bellowing orders to wake up my household made up of four teenage boys, one grandson, and my husband.
I have to bellow because they are always plugged into something: walkmans, CD players, Ipods or some other listening device.
After a lot of yelling - that is the only way things get done fast - we sit down for prayers and I pass out orders for the day.
We troop out of the house at 0645 into our small Nissan Sunny and head for town; my husband for his office, the kids for school, and I for my office.
I am the president of the oldest school in Liberia, the College of West Africa.
Bellowing
We start the school day with devotion. Classes start at 0815. Throughout the day, I bellow orders when necessary - this time, in order to be heard above the din the students make - sign documents, see visitors, parents, browse the internet and find time to take a bite!
This goes on till 1430. I then meet with my executive staff to assess our day's work and plan for the next.
Computer classes run till 1630. I find time in all this chaos to prepare sermons as guest preacher or programmes for the children's Sunday school at my church.
I head for home at 1730 and take off my 'executive hat'.
As mother, I act as judge, nurse, friend and chef till 1930 when I rev up my generator.
For the next hour, I put my real life on hold and lose myself in the make-believe world of Nollywood: I laugh, shout, cry, and pray along with all those Nigerian superstars!
At about 2200, the generator shuts down and we say our prayers and head for bed and sleep.
I take my night bath and relax in my comfortable bed, listen to BBC till midnight or whenever I fall asleep exhausted but fulfilled: fulfilled because I am helping to improve on Liberia's tomorrow.