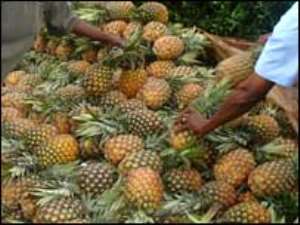 My day starts at 0445. I do not get a full night's sleep anyway because my four-year-old and one-year-old sons wake up at least once to drink milk; so by the time my alarm is going off at 0500, I have a headache due to interrupted sleep.
I have mastered my way around my bedroom in complete darkness, as I get dressed.
Then I prepare a warm cocktail of carrot juice mixed with assorted vegetables.
After brushing my teeth, I dress and prepare a hot pot for my husband.
I sit in darkness and silence as I reflect and pray for the day ahead and the family I am leaving behind.
Pounding head
At 0530 I arrive on the outskirts of Kibera where I pick my workers and head to Thika to purchase pineapples for sale in Nairobi.
Distribution begins by 1200 to supermarkets, open markets, small kiosks and road side vendors.
This is the most trying part of the day as we deal with irate shop owners, traffic jams in the city centre and yelling matatu bus touts.
The day ends at 1830. Tired, hungry and with a pounding headache I head home to my children who run to me: "Mama, why didn't you pick us from school?"
I take a hot shower, have my dinner while holding my two sons on my laps and help my 11-year-old daughter with her homework while she narrates her day.
When the children sleep at 2100 I lay my aching body in bed, quickly rush through the day's newspaper before I drift to sleep with the lights on, TV and radio on, only to be woken up by the cries of my babies at midnight with five more hours to day break.