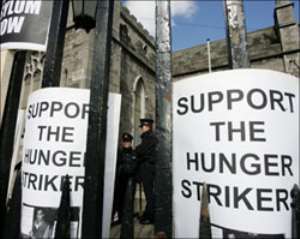 Police in Ireland have safely removed Afghan hunger strikers from a cathedral in Dublin, where protesters spent a week demanding asylum, and warning that they would kill themselves if officers came near.
But those threats proved groundless as officers swept into St. Patrick's Cathedral at sunset on Saturday and hauled out nearly 40 protesters without a struggle from the 13th-century Dublin landmark. No injuries were reported.
Michael McDowell, the justice minister, congratulated the police for "bringing this situation to a successful and peaceful conclusion in very difficult circumstances."
McDowell said the adults in the group had been arrested, while eight youths identified as "unaccompanied minors" had been taken into state care. He defended his government's refusal to negotiate with the Afghans, who had threatened to kill themselves unless Ireland granted them asylum.
'Blackmail'
He called this blackmail that no democracy could tolerate.
"No favours or exceptions will be done for anyone who seeks to thwart the system by actions of this kind," he said.
Police surrounded St. Patrick's Cathedral on Friday, after McDowell authorised them to end the protest using whatever tactics they deemed necessary.
The Afghans said they were equipped with razors and ropes and would slit their wrists or hang themselves if officers approached. Four teenage protesters distributed cell phone photographs to supporters outside the cathedral that pictured them posing with bright red nooses around their necks.
About a dozen protesters occupied the cathedral's 20-meter-high (60-foot-high) organ loft on Friday and said they would jump off if threatened.
It was not immediately clear why the Afghans failed to carry out their suicide threats. The arrested adults were expected to appear in an overnight session of Bridewell district court to face a range of criminal charges.
Compromise rejected
Early Saturday, in a sign that police action was inevitable, the cathedral's Church of Ireland leaders announced that the government had rejected a church-brokered compromise and dismissed their calls for more mediation.
"We had arrived at a set of proposals which were acceptable to the asylum seekers and which we felt offered a fair and equitable way forward for all parties. Unfortunately, this view was not shared by the Department of Justice," said the statement from Archbishops Robin Eames and John Neill and Robert McCarthy, the dean of St. Patrick's Cathedral.
They refused to explain what had been on offer.
The asylum seekers - all males aged 17 to 45 - went on hunger strike in the cathedral on Sunday and demanded immediate asylum.
Justice Department officials countered that no protester had received a deportation order, and most had failed to pursue Ireland's full application and appeals process.
They said Ireland had not even deported anyone to Afghanistan in recent years, only to other European Union countries through which Afghans have been smuggled to Ireland.
On Friday, Irish authorities won a court order declaring the eight youngest hunger-strikers - all 17 - to be minors whose life must be defended by the state. Police also began refusing to allow protesters back into the cathedral after they had been hospitalised.