Cabinet approves 1.1 trillion for Youth Employment programme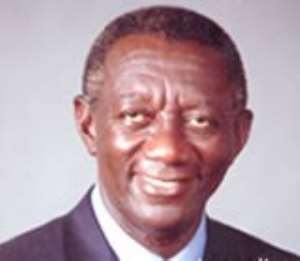 Cabinet has approved the release of 1.1 trillion cedis to start the implementation of the Youth Employment Programme to create massive job openings in the country.
Dubbed, "Ghana Job Corps Programme", it is scheduled to take off in August this year.
This was contained a statement issued on Friday by the Cabinet at the end of its three-day retreat at the Ghana Institute of Management and Public Administration (GIMPA) and read by the Minister of Information and National Orientation, Mr Kwamena Bartels.
President John Agyekum Kufuor and Vice President Alhaji Aliu Mahama attended the meeting, which deliberated on a wide range of pressing national issues, all of which were aimed at accelerating the growth of the national economy and improve the quality of life of Ghanaians.
Among issues discussed were problems associated with the country's land administration, power outages and water shortages and the necessary steps to address them.
There was also an update on efforts to host the CAN 2008 Football Competition and the need to complete the stadiums in Sekondi and Tamale as well as renovation of the Accra and Kumasi stadiums on time for the competition.
The statement said a firm decision was taken to launch and make the Micro Small Loan Scheme operational with a start-up capital of 50 million dollars by July.
This Scheme would be targeted at micro operators who require support of up to Five million cedis each and small-scale operators who require loans of up to 100 million cedis.
In addition, the Cabinet, considered the possibilities of reviewing the existing Ghana Investment Promotion Council (GIPC) Law, Act 478, with a view to empowering local entrepreneurs in the face of the unfair competition they faced.
The statement said they also gave the go-ahead for the Stamp Duty Amendment Bill, Foreign Exchange and Credit Reporting Bills to be forwarded to Parliament for passage.
It resolved that the operations of the National Health Insurance Scheme, the School Feeding Programme and Capitation Grant should be deepened and expanded in the light of their successes.
The Cabinet, the statement said, reaffirmed its commitment to a strengthened security, rule of law, respect for human rights, good governance and democratic freedoms.
It said President Kufuor expressed appreciation to all members of the Cabinet for the renewed vigour and the quality and depth of their contributions and tasked them to ensure speedy implementation of the decisions taken.
The retreat was the first after the recent ministerial reshuffle that saw some key ministers shifted from their positions while others were dropped.